All-on-4 Dental Implants– Carrollton, TX
Creating a Permanent Smile with Just Four Implants
When an entire arch of teeth is missing, replacing each and every one of them with an implant would be impractical. Instead, Dr. Shekhadiya and Dr. Ahir can give you full dentures that are supported with just four dental implants – a conservative solution that keeps your dentures permanently anchored in place with a minimum number of posts. And unlike traditional implants, All-on-4 often lets you receive new teeth on the same day as the surgery. Contact us today to schedule an appointment to learn more about the advantages that All-on-4 dental implants from our Carrollton, TX have to offer.
Why Choose Celebration Family Dental of Carrollton for All-on-4 Dental Implants?
In-House Dental Implant Placement
Fully Customized, Lifelike Dentures
Comfortable, Welcoming Dental Office
How Do All-On-4 Dental Implants Work?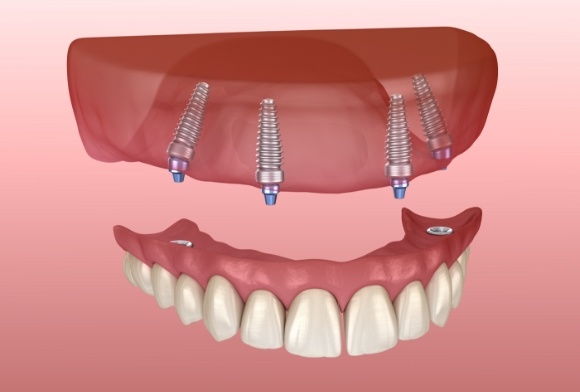 Dental implants are the only kind of tooth replacement that mimics the entire natural tooth structure, which includes the roots that normally rest in the jawbone. Consequently, you can only receive implants if you have a sufficient level of jawbone density to support them. If we find that there isn't enough bone in your jaw, we may recommend All-on-4 as an alternative to bone grafts. The four implant posts used to support the denture will be inserted into the thickest areas of the jawbone, with the teeth near the back of the mouth being inserted at an angle. Once the implants are in place, a temporary denture can be anchored to them.
Am I a Candidate for All-On-4 Dental Implants?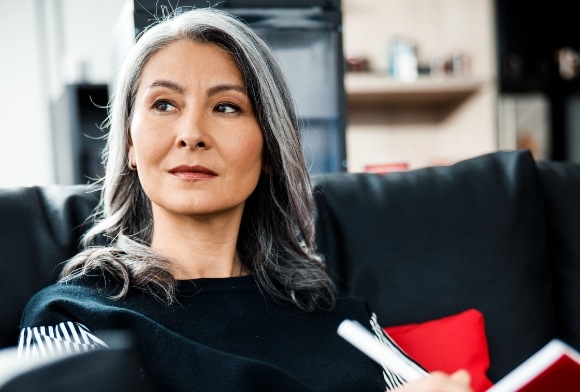 The All-on-4 procedure is for adults who have lost an entire row of teeth (or a vast majority of the teeth in a single row). Even if you're not eligible for traditional dental implants, All-on-4 might still be an option; the unique approach used to place the implants means less jawbone density is required overall. This is also a good choice if you don't want to have to receive bone grafts before getting your implants.
You will need to have a healthy mouth in order to receive All-on-4 implants, and you have to be able to keep up good oral hygiene habits in the long term. Also, if you smoke, you'll need to quit if you don't want to increase the risk of gum disease leading to implant failure.
Benefits of All-On-4 Dental Implants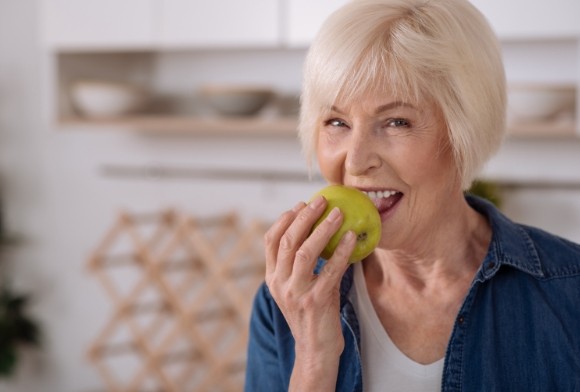 Unlike traditional dentures, All-on-4 implants are anchored in place, allowing you to brush and floss normally instead of having to take your teeth out as part of your cleaning routine. This also means that they provide greater bite force and chewing power, meaning you can eat virtually anything that you would be able to eat with your normal teeth. Also, the implants will stimulate the jawbone in order to reduce resorption – in other words, they will actively fight against bone loss, resulting in a healthier, stronger jaw as well as a more attractive, youthful appearance.
All-On-4 vs. Traditional Dental Implants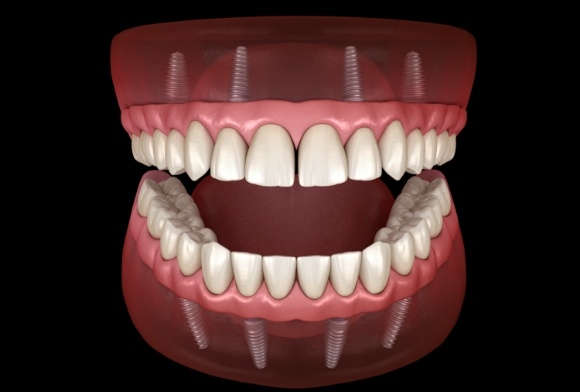 Patients who receive traditional dental implants may need as many as 8 posts for dentures, which increases the cost of the procedure and usually requires more complex surgery; All-on-4 simplifies things by only using four implants. Also, All-on-4 can eliminate the need for bone grafting, and it's often possible to get a denture on the same day as the implant surgery, whereas with traditional implants you would have to wait for osseointegration to take place before receiving any sort of restoration.