Advanced Dental Services & Technology – Carrollton, TX
Providing State-of-the-Art Instruments of Care
Technology is changing the world at an ever-quickening pace, and the same can be said for dentistry, especially at Celebration Family Dental of Carrollton. Our dental office is filled with some of the latest and greatest tools, and they enable us to solve even more problems and consistently provide increasingly high-quality care. With us, you'll get the very best of up-to-the-minute dental care every time you come in for an appointment.
Intraoral Cameras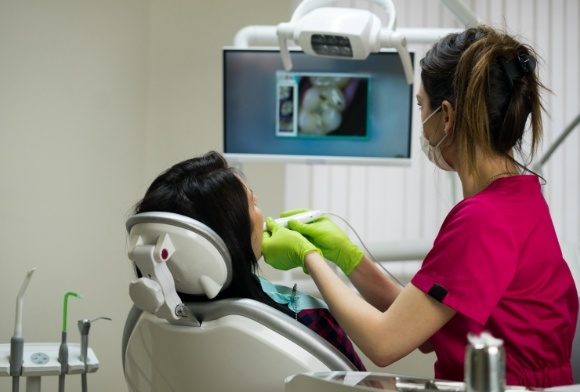 This small, camera-tipped wand allows both you and your dentist to get a much better look at your smile. It can capture high-resolution images of your teeth and gums which can be displayed on a large chairside monitor. These will make it much easier for our team to spot any hard to find dental issues, plus it'll give you a chance to finally see your smile from your dentist's perspective, helping you gain a deeper understanding of your oral health.
Digital X-Rays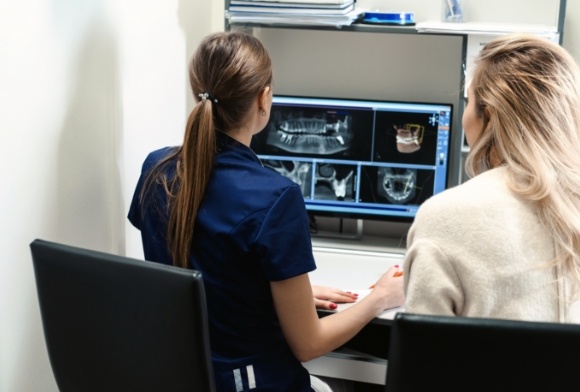 X-rays have been an important diagnostic tool in dentistry for a very long time, which is why we've upgraded to using the very best version of them: digital x-rays. They're able to create images much faster than traditional, film-based x-rays, and they even emit up to 90% less radiation. Plus, because everything is digital, the images can be easily stored, sent, and displayed so your dentist can fully explain what they are seeing.
Cone Beam CT Scanner
While digital X-rays and detailed exams provide us with a lot of information about your oral health, sometimes we need to take things a step further, especially for more complex procedures like dental implants. CT cone beam scanners are designed to capture 3D X-rays of your mouth, giving us a detailed picture of your oral structures from all angles. On top of highlighting your bone and soft tissue, our scanner can evaluate your blood vessels, nerve pathways, and other essential details necessary as part of your treatment planning.
Digital Impression System
If you've ever needed a dental crown, you may have had to bite into grey, putty-like impression material just to get it made. Since this process can be uncomfortable for many, we've decided to make the process fully digital! Using a small, handheld scanner, we can capture hundreds of images of your mouth in a matter of minutes and send this data to our computer to be recompiled into a 3D image. From there, we can design your dental crowns with the best accuracy possible, all while skipping the grey dental clay.
Laser Dentistry
Dental lasers allow our team to perform a number of different treatments faster and with much more precision. They are especially useful when it comes to treating gum disease, as the concentrated beam of light is able to quickly eliminate harmful bacteria as well as painlessly remove any infected tissue. This can all be done while leaving the surrounding healthy tissue completely untouched, making both the procedure and recovery more comfortable.