Inlays & Onlays – Carrollton, TX
Make Your Tooth Whole Again
At Celebration Family Dental of Carrollton, we're able to provide a whole host of dental restorations so we can find the treatment that's best suited to a patient's particular needs. In some cases, a tooth may be too damaged to be repaired with a filling, but it doesn't quite need an entire crown. This is when we like to utilize inlays and onlays in our Carrollton, TX dental office.
Why Choose Celebration Family Dental of Carrollton for Inlays & Onlays?
State-of-the-Art Dental Technology
Beautiful Metal-Free Restorations
Personable, Friendly Dental Team
What are Inlays & Onlays?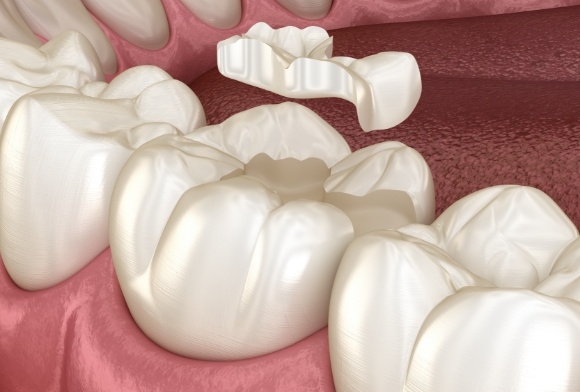 Inlays and onlays are sometimes referred to as "partial crowns." They fit onto the teeth just like a dental crown, but they are much smaller and only cover the portion that needs to be restored. An inlay is placed inside a tooth in order to restore its internal structure and strength, while an onlay is used to repair a tooth with damage on its upper edges, known as cusps.
The Inlay & Onlay Procedure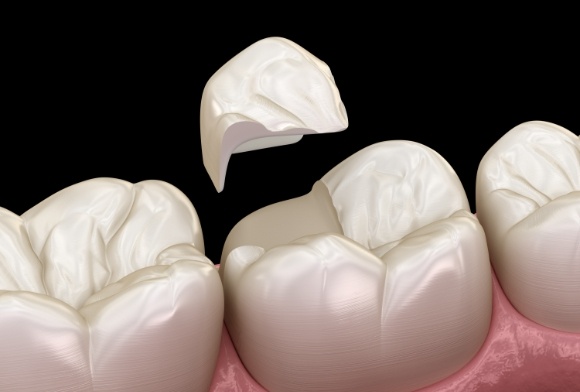 The procedure to get an inlay or onlay is similar to that of a crown. At your initial visit, your dentist will gently shape your tooth to fit the restoration, take an impression, and send it to a dental lab. This will be used to design and fabricate your onlay, and once it is completed, you'll return to our dental office to have it placed. The entire process is quite comfortable, and your dentist will use local anesthesia when needed to ensure you won't feel any pain. If you have a cracked, chipped, or fractured tooth, an inlay or onlay could be all it needs to look and function normally again. To learn more about these restorations and how they can help your smile, please contact us today.