Dental Implant-Retained Dentures – Carrollton, TX
Get Unmatched Support from Your Denture
For 35 million Americans, complete tooth loss has affected their quality of life. If you are among those who no longer have any remaining natural teeth on the top or bottom arch, you live with several daily struggles. Now, you can no longer chew or speak with ease while you likely feel insecure about your smile. To replace your missing teeth, you may have tried traditional dentures in the past, but they did not give you the results you had wanted. At Celebration Family Dental of Carrollton, we understand your concerns. With dental implant-retained dentures in Carrollton, you will gain the next best thing to your natural teeth. Give us a call to get started!
Why Choose Celebration Family Dental of Carrollton for Dental Implant-Retained Dentures?
Implant Surgery Performed In-House
TVs on Ceiling for Lengthier Procedures
State-of-the-Art Dental Technology
What are Dental Implant-Retained Dentures?
An implant denture has quickly become the preferred option to treat complete tooth loss because it offers over a 95% success rate while also feeling natural. It is a type of overdenture that is connected to dental implants to hold it in place instead of suction or an adhesive. They come in two different forms depending on your specific preference:
Fixed/Permanent Dental Implant Dentures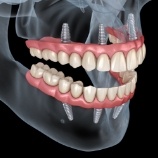 A fixed implant denture means it is not meant to be removed by anyone except a dentist. Since they are not meant to be removed at home, your oral care looks much like how it did when you had natural teeth.
Removable Dental Implant Dentures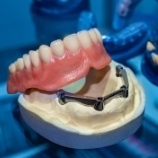 Removable implant dentures are snapped onto dental implants, making them easier to perform a more detailed cleaning.
The Dental Implant-Supported Denture Procedure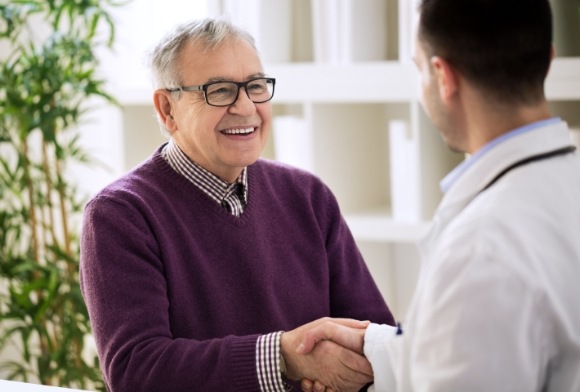 During the implant procedure, a trusted oral surgeon will create a series of incisions inside the gum tissue so that tiny holes can be created for your dental implant. The number of implants provided will depend on the condition of your jawbone and what is necessary to hold your denture. For example, anywhere between four to eight may be placed based on your jawbone's density. Following the placement of the implants, they will be given several months to heal and integrate before the abutments and permanent restoration are attached.
Am I a Candidate for Dental Implant-Retained Dentures?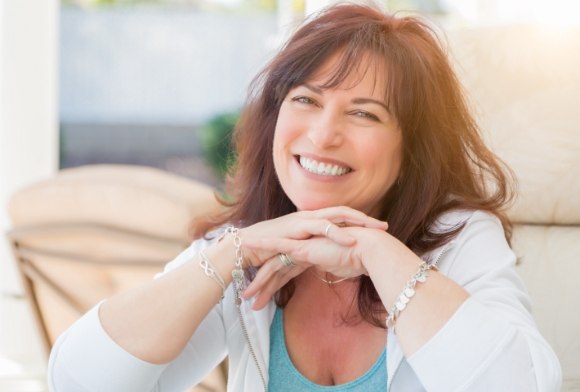 Candidates for implant dentures are either missing most of their teeth throughout their mouth or all their teeth in one or both arches. Of course, they should also:
Have good oral health (i.e., no gum disease or tooth decay)
Sufficient bone volume to receive the implants
No health conditions that affect their body's ability to heal
A willingness to commit to strict oral care at home, complete routine checkups, and quit all tobacco products
Benefits of Combining Dentures & Dental Implants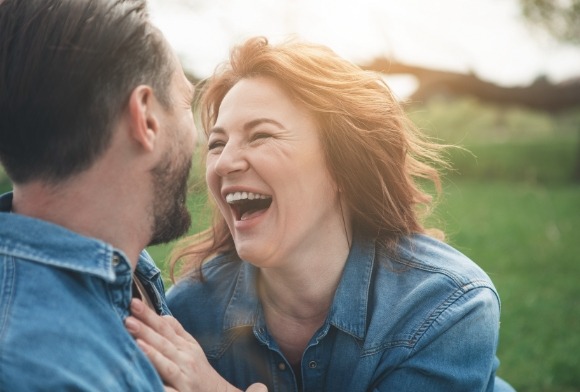 Implant dentures resolve many of the disadvantages of traditional solutions. With the implant posts holding your prosthetic teeth securely in place, you will not have to worry about any slipping or irritation. You can speak with confidence knowing that it will stay in place. In addition, you can eat your favorite foods again. In fact, when compared to traditional dentures, those that are supported by dental implants offer an increased biting force of over 70%.
With the use of porcelain and high-quality acrylic material, you can rest assured that your new smile will look natural. No one will be able to tell that they are not your own teeth.
Best of all, dental implants are the only tooth replacement option to stop bone loss. By placing the posts into your jawbone, they stimulate new growth to protect its density.