Porcelain Veneers – Carrollton, TX
Your Key to a Smile Makeover
Veneers and laminates are one of the most sought-after treatments in all of cosmetic dentistry. Their application involves replacing a part of the natural enamel with porcelain in order to improve the appearance of the smile. At Celebration Family Dental of Carrollton, we can use porcelain veneers from our Carrollton, TX cosmetic dentist to completely transform your smile and confidence at the same time.
Why Choose Celebration Family Dental of Carrollton for Veneers?
Beautiful, Long-Lasting Results
A Friendly, Caring Dental Team
Advanced Dental Technology
What Are Porcelain Veneers?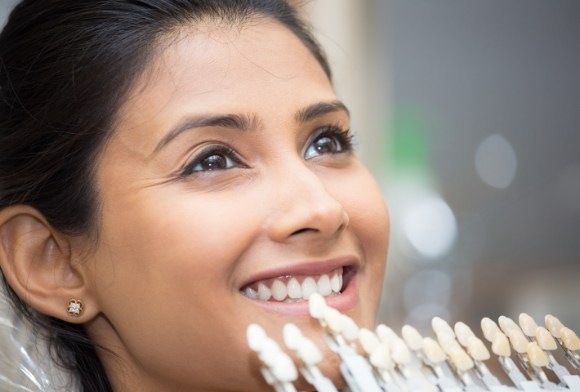 Veneers are ultra-thin tooth covers that are placed on the fronts of the teeth; they're designed to disguise a range of aesthetic flaws. They're typically made out of porcelain, which mimics the appearance of natural tooth enamel so closely that onlookers cannot even tell the difference.
Traditional Veneers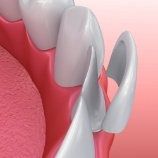 Traditional veneers require us to remove a significant amount of the natural tooth structure so the final result of the procedure does not look bulky or unnatural. Therefore, this is a permanent procedure. There is no reason to be afraid of making the commitment, however; the vast majority of people who receive traditional porcelain veneers are extremely happy with their results.
Minimal-Prep Veneers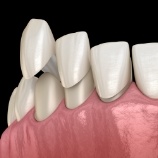 Various brands use special formulas to create porcelain restorations that are durable despite being quite thin — even thinner than their traditional counterparts. Therefore, as their name implies, minimal-prep veneers require less tooth modification. They can produce stunning results and be quite durable.
What Is the Procedure Like?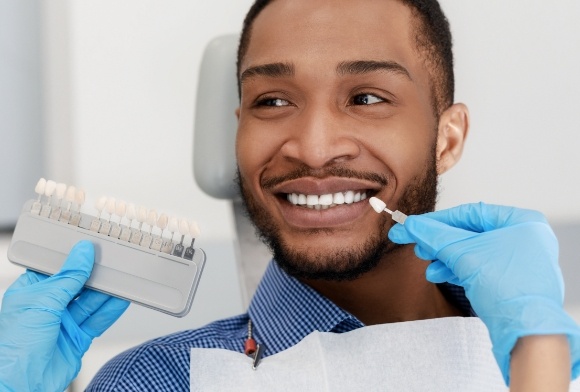 Your journey begins with a cosmetic consultation, wherein we'll make sure that your teeth are healthy enough to support veneers. We'll also answer any questions you may have about the treatment.
If you decide that veneers are right for you, we'll prepare your teeth by removing as much enamel as necessary to make your new smile look natural and stunning. Sometimes, we use local anesthetic to make sure our patients are comfortable during the prep process. Then, we'll take detailed images and impressions of your teeth. A dental lab will use that data to fabricate your permanent veneers. In the meantime, you may need to wear temporary veneers to shield your teeth from food and beverages.
When your permanent restorations arrive in our dental office, we'll double-check to make sure they're a perfect match for your smile. We may have to make a few minor modifications to them. Then, we'll attach them to your teeth so you can enjoy the stunning, Hollywood-ready grin that you've always wanted.
How Can Porcelain Veneers Help My Smile?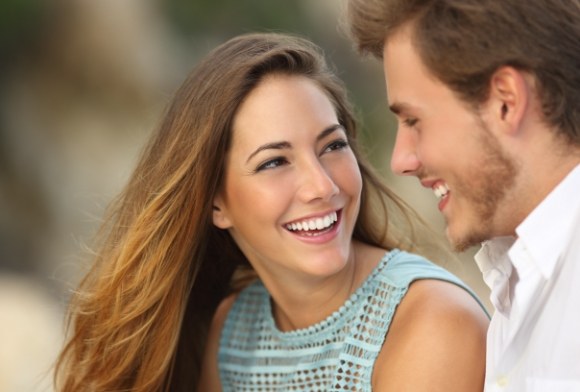 A veneer is a thin porcelain shell and covers the front of the tooth. Porcelain is a relatively brittle material, but when it is bonded to the teeth with a special gel, it hardens and strengthens to function like a real tooth. Porcelain veneers are very versatile and can be used to correct a variety of cosmetic tooth problems, such as:
Worn Teeth
Cracks
Chips
Stained Teeth
Broken Teeth
Close Spaces
Disfigured Teeth
Crooked Teeth
What Are the Benefits of Porcelain Veneers?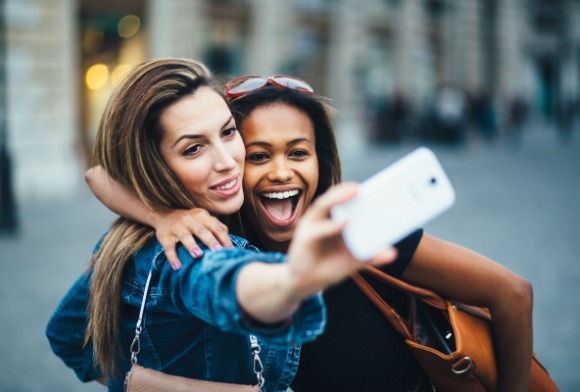 Porcelain veneers in Carrollton offer a number of outstanding benefits:
A set of veneers can last for 10 years or longer with proper care.
Porcelain is nonporous, which means that it does not stain like natural tooth enamel. You can expect your new look to maintain its luster for a long time
Caring for veneers is easy. You'll be able to brush and floss like normal. However, you should remember to use a low-abrasive or non-abrasive toothpaste to avoid scratching the porcelain.
Veneers don't decay, so they can protect the fronts of your teeth from forming new cavities.
A Natural-Looking Restoration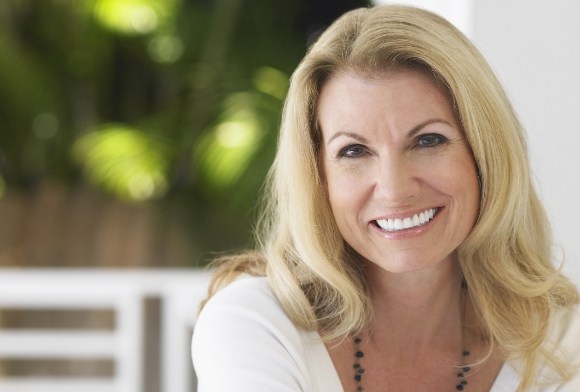 Some people have the misconception that porcelain veneers will make their teeth appear unnaturally white and large. That is not the case at all! Thanks to us, your porcelain veneers will be barely noticeable and made to match the natural color of your teeth. Porcelain reflects light just like natural enamel, and the shells are so thin that they blend well with the rest of your teeth. The result is an enhanced, yet natural-looking smile which boosts your confidence and overall appearance at the same time.
Easy Application, Painless Procedure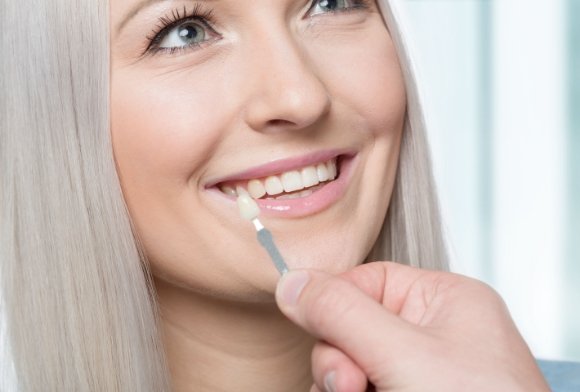 The procedure of placing veneers begins with an examination so that the appropriate shade of porcelain can be determined. We will create impressions of your teeth and send them to a dental laboratory to create your restorations. The teeth will also need to be prepared by buffing off a small amount of enamel before applying the veneers. Once they are completed, your custom veneers will be bonded to your teeth to give you a brand-new smile. The procedure is easy and painless.
If you're ready to see a perfect smile in the mirror every day, porcelain veneers can help you do exactly that. To get them, contact us today.
Understanding the Cost of Veneers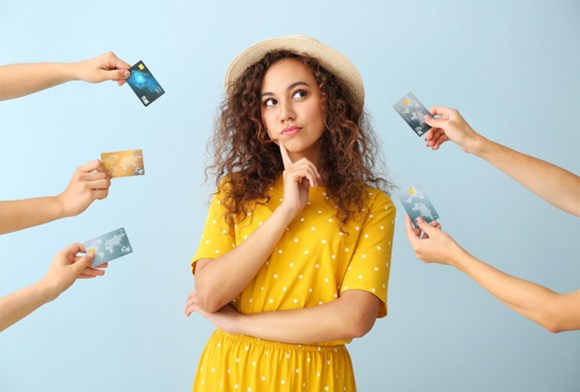 Veneers are a great way to transform numerous aspects of your smile at the same time. However, they aren't always the ideal option for everyone. To determine whether or not veneers are the right solution for you, you need to explore all of your options and have a thorough understanding of the cost. Read on to learn more about the cosmetic dental options so you can make an informed decision about the future of your smile.
Cost VS Cosmetic Dentistry: What's Right for Me?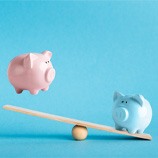 For many patients, veneers immediately seem like the ideal option, but it's a good idea to take a look at all of the cosmetic treatments available to see how each one will affect your smile. They have a variety of price points and can help patients to achieve a wide array of outcomes. Here are some of the most common choices:
Invisalign – Invisalign is an ideal option for patients who have misalignment. This treatment costs several thousands of dollars, but it is one of the best ways to correct crooked teeth and bite problems.
Teeth Whitening – Professional teeth whitening is a quick solution for surface discoloration, and it is more affordable than other cosmetic options. Results can last anywhere between a few months to several years depending on how well you care for them.
Direct Bonding – This minimally invasive procedure can be completed in just one short visit. It is one of the most affordable cosmetic options available, and it's great for correcting minor flaws, like chips, stains, and gaps. Bonding lasts anywhere between 3 to 10 years.
Veneers – Veneers aren't the cheapest cosmetic service out there, but they are the easiest way to transform numerous aspects of your smile at the same time. This includes the shape, color, and minor misalignment. The whole process can be completed in as few as two appointments and lasts up to 15 years or longer with proper maintenance.
How to Make Veneers Affordable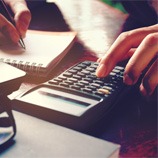 Veneers aren't generally covered by dental insurance because they are usually an elective treatment. The good news is that this doesn't necessarily mean that you'll be left on your own. We work with CareCredit – a third-party financing company that can split the cost of your treatment into manageable monthly installments with little-to-no interest. Talk to one of our friendly team members to learn more about your financial options.
To find out exactly how much you can expect your veneers to cost, schedule a consultation with us. We're eager to help you achieve your smile goals.
Veneers FAQs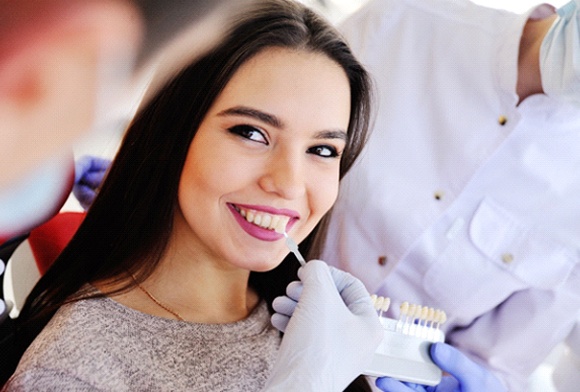 Here at Celebration Family Dental, we understand that you might have some initial questions about veneers and what they're capable of doing for your pearly whites before you're willing to commit to treatment. We've gathered some of the most frequently asked questions that we receive about the treatment, as well as their respective answers, to help you feel confident about committing to a brighter and whiter smile. Of course, feel free to give us a call if you have any additional questions or would like to schedule a consultation.
Are Veneers Permanent?
Veneers aren't technically permanent, and they'll eventually need to be replaced. However, the process is considered irreversible since a small amount of enamel has to be removed before they can be fitted (this ensures they look and feel natural). Since removed enamel doesn't grow back, teeth that have been prepared this way will always need to be covered to keep them safe.
Is It Painful to Get Veneers?
Having your enamel shaved off might sound painful, but your mouth will be numbed for the entirety of the procedure, and you won't feel any pain at all while the veneers are being placed. In some cases, you might some discomfort after the veneers have been placed; two to four veneers usually cause little to no pain, while eight or more can lead to soreness in the gums and jaw. Some patients experience "bonding sensitivity", which means you may feel a sharp pain when you bite into something hot or cold for a while. However, this is temporary and can be managed with painkillers and saltwater rinses.
Can Veneers Be Used for Bite Corrections?
Since veneers don't actually change the position of your teeth, their effectiveness for treating bite issues will vary on the severity of the problem. For example, if you have a mild open bite, veneers can make your teeth appear longer and wider so that they appear to line up correctly. You can also use veneers to hide small gaps between teeth that influence your bite pattern. In any case, veneers will only be recommended for bite issues that don't cause significant oral health problems but still affect your appearance.
Can I Drink Coffee with Veneers?
Our veneers are crafted from a special porcelain material that's nonporous, meaning that the dark-colored particles in beverages like coffee cannot stain them like they can your natural teeth. This means that you can still enjoy coffee without worrying too much about staining your veneers. However, it's worth noting that veneers are not entirely stain-proof, so excessive consumption of coffee could still have a negative impact—especially if you aren't practicing excellent oral hygiene!