Dental Implants – Carrollton, TX
Permanent, Natural-Looking Tooth Replacement
After tooth loss, finding an appropriate solution for your smile is of the utmost importance. Missing teeth can make it difficult to eat, speak, and smile with full confidence – but dental implants in Carrollton provide a wonderful solution for many patients. This comprehensive method of replacement gives you back the visible part of the missing tooth as well as its supportive tooth structure. Give us a call today to learn more about how our team at Celebration Family Dental of Carrollton can complete your smile with this permanent, natural-looking tooth replacement, using dental implants in Carrollton, TX!
Why Choose Celebration Family Dental of Carrollton for Dental Implants?
Most Dental Implant Placement Performed In-House
Flexible Hours
Fair Pricing with No Surprises
What Are Dental Implants?
A dental implant is a tiny titanium post that takes the place of your missing tooth's root. Surgically embedded beneath the gumline, each implant post promotes the growth of bone tissue, eventually becoming one with the jawbone. This process, which generally takes three to six months, is called osseointegration. The end result is a sturdy, long-lasting foundation for the custom dental crown, bridge, or denture that is affixed on top via a metal abutment.
The 4-Step Dental Implant Process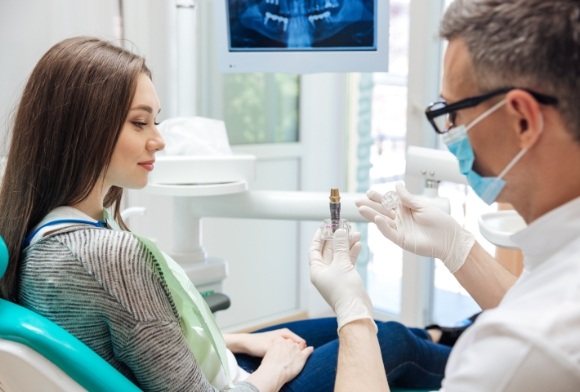 Replacing a tooth's root structure is much more complex than simply replacing the crown. Therefore, the dental implant process can take several months to a year or longer. However, they can last a lifetime with the right care, making them well worth the wait. Dr. Shekhadiya work with a network of local dental implant specialists to ensure you receive the highest quality of care every step of the way.
With that in mind, you may be wondering exactly how dental implants work in Carrollton. Each patient's treatment will look slightly different, but the four basic steps are the same: the initial consultation, the surgery, osseointegration, and the placement of the restorations.
Initial Dental Implant Consultation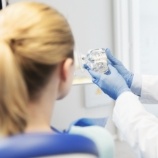 The first step in rebuilding your smile is to schedule a consultation with one of our dentist. During this appointment, our team will use highly advanced technology to examine your mouth and surrounding facial structures. Not only does this determine your eligibility for dental implants, but it helps us plan out exactly where and how to place them.
Some patients do not initially qualify for dental implants. If this happens to you, don't worry. In many cases, we may simply need to perform one or more preliminary procedures (bone grafting, gum disease therapy, tooth extractions, etc.) to ensure your mouth is ready to accommodate the implants. Once these treatments are complete, we can schedule the implant placement surgery.
Dental Implant Surgery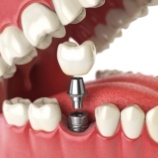 Dr. Shekhadiya have partnered with dental implant specialists in the area to ensure that you receive the highest quality of care possible. They will refer you to one of these oral surgeons or periodontists for your dental implant surgery.
The procedure is fairly straightforward. After numbing your mouth and administering sedation to ensure you're comfortable, your implant dentist in Carrollton will open up your gum tissue to access your jawbone. Then, the implant posts are inserted into the bone, and the gums are stitched closed. A protective cap will be placed atop the implants to protect them during the healing process.
Dental Implant Osseointegration/ Abutment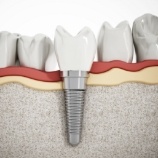 Over the next three to six months, a natural process called osseointegration will take place. Due to the implants' biocompatible qualities, they will fuse with the surrounding bone and tissue, creating the sturdy foundation needed for your replacement teeth. Once this process is complete, we can place a metal abutment on top of the implants. This fixture will allow us to connect your restoration to your implant and complete your smile.
Delivery of Dental Implant Restorations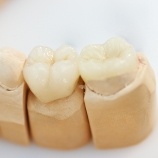 A few weeks after your abutment placement, your restorations should be ready. We use lifelike materials (like porcelain) and impressions taken of your mouth to make your new teeth look just like the ones you used to have. Once we've affixed your new crown, bridge, or denture to your dental implants in Carrollton, your new smile should be indistinguishable from your old one!
Benefits of Dental Implants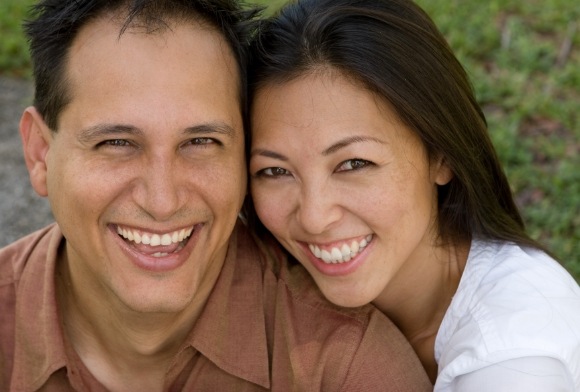 When you get dental implants, you are making a commitment to a long-term solution for missing teeth – and it's a commitment that will pay off in many different ways. Dental implants are unique compared to other types of tooth replacement; there's a reason why over 3 million people in the United States have chosen implants to restore their smiles. A brief outline of the benefits can be found below; we can go into more detail when you visit our dental office.
Day-to-Day Benefits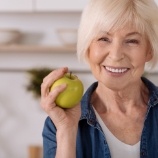 With dental implants, you'll be able to enjoy a lifestyle that's close to what you experienced before tooth loss.
No Diet Restrictions: Even with dentures, you might have trouble chewing certain kinds of foods. Dental implants are strong and stable enough to let you safely chew virtually any kind of food without issue. You can go back to all of your favorite restaurants and confidently order whatever you want.
A Confident Smile: Dental implants look and feel almost identical to natural teeth, leaving you with little to no reservations about smiling in front of others, whether it's at an important social event or during an important interview.
Improved Speech: Dentures that don't fit properly may slip when you try to speak. Dental implants make this a non-issue, allowing you to have lengthy conversations while speaking clearly.
Easy Maintenance: Taking care of implants is remarkably simple. You follow the same steps for taking care of natural teeth – namely brushing, flossing, and attending regular checkups.
Health Benefits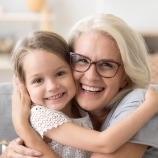 Since dental implants basically become part of your body, they have a unique impact on your overall health.
Jawbone Preservation: Bone loss commonly occurs when teeth are missing. The stimulation that dental implants provides helps maintain the jawbone, preventing it from losing its shape over the years.
Prevent Oral Health Issues: Replacing teeth with dental implants can go a long way towards helping you avoid certain oral health problems. For example, when there's empty space in your mouth, the remaining teeth tend to drift into it, throwing off your bite's natural alignment and potentially leading to all kinds of problems. Implants can be used to fill in the gaps so that dental drift does not occur.
Healthier Lifestyle: Being able to eat whatever you want gives you better control over your diet, meaning maintaining a nutritious diet becomes a lot easier.
Long-Term Benefits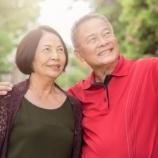 Dental implants have many benefits that you'll be able to enjoy in the present, but there are additional advantages that you'll come to appreciate as the years go by.
High Success Rate: Dental implant failure is very rare. About 95 percent of dental implant cases are successful over the long term.
Youthful Appearance: Over time, deterioration in your jaw can affect your appearance. But since dental implants prevent bone loss, they'll also keep you looking younger.
Long Lifespan: Dentures and bridges have to be replaced every few years or so. Dental implants can last for 30 years or more.
Who Dental Implants Can Help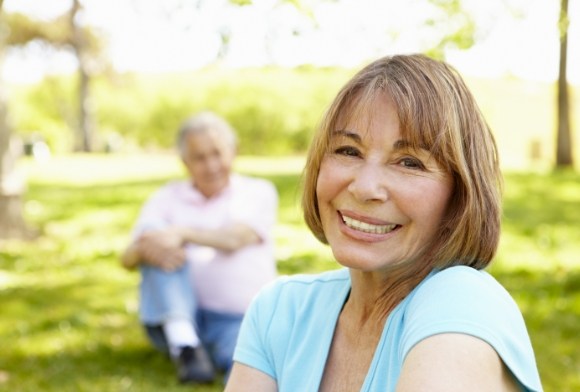 Dental implants can be strategically positioned to support any number of replacement teeth – from a single dental crown to a full denture. This versatile solution closely mimics your smile's natural form and function to ensure complete confidence. The number of implants and type of restoration we use will depend in large part on the number and location of missing teeth. The good news is that almost any healthy adult can enjoy the benefits of dental implants. We'll ensure that this option is right for you during your consultation before creating a custom treatment plan based on your needs.
Who Is a Good Candidate for Dental Implants?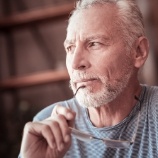 Many patients are eligible for dental implants. If your tooth loss is recent and you are in good oral and overall health, chances are good that you are, too. The only way to know for sure is to schedule a tooth replacement consultation appointment with our dental implant dentist in Carrollton. When you do, we will evaluate the health of your jawbone, the extent of your tooth loss, and also discuss your smile goals, budget, and certain lifestyle factors to determine whether or not this solution is right for you. You must be well enough to undergo a minor surgery, and you will need to have great oral health so there are no complications during the process.
Even if it doesn't sound like you're a good candidate initially, we can provide you with preliminary treatments like gum disease therapy, tooth extractions, and bone grafting to get your oral health back on track. Once we've prepared you for dental implants, we'll create your custom treatment around the number of teeth that you're missing.
Missing 1 Tooth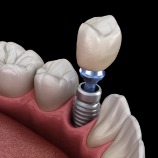 To replace one tooth, we will use a single implant post to support a dental crown. This replacement tooth will look, feel, and function just like your healthy, natural smile. We match dental crowns to the size, shape, and shade of your natural teeth so they seamlessly blend in. Unlike bridges, a single implant doesn't require the removal of healthy enamel surrounding the area.
Missing Multiple Teeth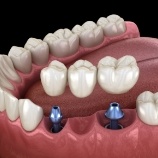 If you're missing two or more teeth, we'll need to use a more advanced tooth replacement prosthetic. For two or more consecutive teeth, we can usually restore your smile with an implant-supported fixed bridge. A row of prosthetic teeth, called pontics, are fused together. Then, the restoration is supported by a dental implant on both ends of the bridge.
To replace a number of nonconsecutive teeth, we will recommend a partial denture. Partials use a gum-colored base material to support numerous replacement teeth. The prosthetic is crafted to fit between remaining healthy teeth. We strategically position two to four implants to support the partial dentures.
Missing All Teeth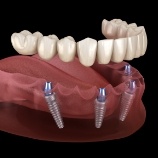 To replace a full row of teeth, we will usually recommend a denture supported by four to six dental implant posts. Full dentures are crafted like partials, using a gum-colored base to support the full row of teeth. An implant denture looks, feels, and functions just like your natural teeth, making it the most strong, stable, and lifelike smile replacement.
Learn More About Implant Dentures
Understanding the Cost of Dental Implants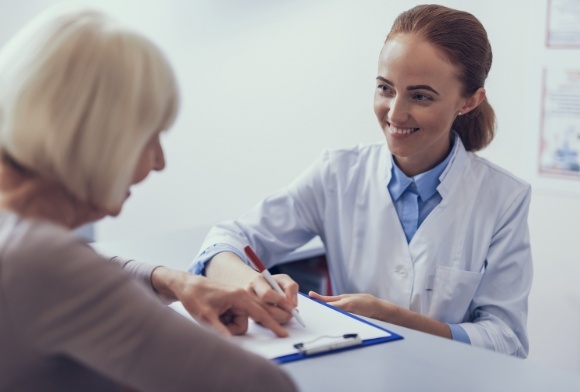 Dental implants offer lifelike, long-lasting results, and these effective smile restorations require patients to make a larger investment of time and money upfront than other solutions. Since no two treatment plans are exactly alike, our team will walk you through every step and the price associated with each before we begin restoring your smile. With this in mind, keep reading to learn some of the factors that influence the cost of dental implants in Carrollton.
Preliminary Treatments & Dental Implant Surgery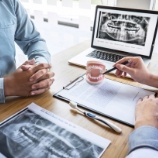 Thanks to modern dentistry, nearly everyone is a candidate for dental implants. In fact, even if an untreated dental concern is found during your oral exam, like gum disease, the appropriate restorative care can be worked into your treatment plan. Preliminary treatments like these will add to the total cost of your care but are an essential component of successful surgery.
The dental implant surgery itself will have a cost of its own. Typically, factors like the number of implants required, the location of the implants, and the type of sedation needed will influence the final price. Don't worry – we will do our best to give you an estimate of the cost upfront so there are no surprises.
The Parts of Your Dental Implant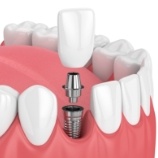 In addition to the surgery, other components of your dental implant that will affect the cost include:
The number of dental implants - Naturally, replacing a single tooth costs less than replacing an entire arch of teeth with 4-6 dental implants.
The type of restoration - Depending on your unique dental needs, you will need a single dental crown, a dental bridge, or an implant denture. Each has a different cost.
The material used - Dental implants are most often made out of titanium or zirconia, which are priced differently.
Brand – Each implant dentist uses their preferred manufacturer. Since this will influence the amount you end up paying, don't hesitate to ask why they use the one that they do!
How Dental Implants Can Save You Money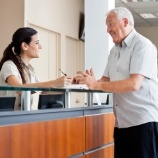 It's no secret that the upfront cost of dental implants is higher than other tooth-replacement options. However, it's important to consider the initial and total price, especially since dental implants in Carrollton may end up saving you money in the long run. For example, while traditional dentures typically need to be replaced every five to ten years, dental implants can last for 30+ years with proper care! Plus, dental implants don't require adjustment appointments or special cleaning products to maintain. Not to mention the cost-saving benefits of preserving your youthful face shape and protecting any natural teeth that are still intact.
Does My Dental Insurance Cover Dental Implants?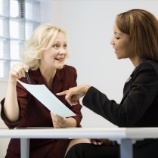 Typically, dental plans don't cover the entire cost of dental implants since they are considered a cosmetic treatment. With that being said, a portion of the cost, like the preliminary treatment or the restoration, might be! If you need any help understanding your benefits, don't hesitate to let us know. Our team would be more than happy to walk you through the ins and outs of your coverage.
Making Dental Implants Affordable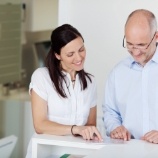 Uninsured? Think there's no other way to make dental implants affordable? Think again! Thanks to trusted third-party financiers, like CareCredit, you can break up the cost of dental implants into manageable monthly chunks – often for little-to-no interest too! Plus, applying just takes a few minutes and can make the cost of dental implants fit into your budget.
Dental Implant Frequently Asked Questions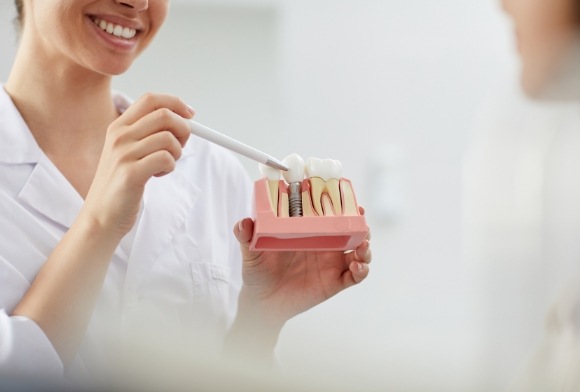 Are you exhausted from constantly dealing with the challenges of missing teeth? At Celebration Family Dental of Carrollton, we can help you reclaim both your smile and daily quality of life with dental implants. Before committing to implant treatment, you probably have some questions about the procedure. We are here to help! Below are some of the most common questions and answers about dental implants. If you still have doubts or questions after reviewing these dental implant FAQs in Carrollton, do not hesitate to contact us!
Why Is It Important to Replace Missing Teeth?
While many people are tempted to continue living without replacing missing teeth, this can actually lead to serious negative health consequences over time. Here are three reasons why it is important to replace missing teeth:
Dental Drift – Missing teeth can lead to dental drift, which is when remaining teeth slowly start moving into the gap in your smile. This can contribute to bite problems and make it more difficult to thoroughly clean your teeth.
Sunken Face – Teeth support the shape of your face and stimulate the jawbone. When teeth go missing, the jawbone can gradually shrink away and leave your face looking sunken and aged.
Poor Nutrition – It's hard to eat a balanced meal when you are missing teeth! Breaking off bites of healthy fruits and vegetables is difficult without front teeth, while molars are important to grind up tough foods like meats.
What Are Dental Implants Made Of?
Dental implants are typically made out of the incredibly strong metal known as titanium. In addition to its supreme strength, another important characteristic of titanium is that it's biocompatible. Titanium dental implants are able to fuse with the surrounding jawbone to provide a stable base for a new replacement tooth or dental prosthetic.
The crown or implant-supported prosthetic placed on top of a dental implant are most often made from porcelain or similar ceramic material, both of which are strong enough to withstand natural chewing forces. In addition, porcelain can be color-matched to a patient's remaining healthy teeth, so replacement teeth will blend in seamlessly with the rest of their smile.
How Successful Are Dental Implants?
Dental implants are an extremely effective tooth replacement solution. In fact, according to the American Association of Oral and Maxillofacial Surgeons, the overall success rate of dental implants is approximately 95%!
To help ensure the success of your implant treatment, be sure to practice excellent oral hygiene at home both before and after implantation surgery. In addition, abstain from smoking or using other tobacco products, as tobacco use can prevent successful osseointegration and lead to implant failure.
How Long Do Dental Implants Last?
Dental implants are among the longest-lasting tooth replacement solutions available today. You can expect your dental implants to last for decades – perhaps even for the rest of your life! You can help preserve your dental implants by brushing twice a day for a full two minutes each time, flossing daily, and visiting one of our experienced dentist at Celebration Family Dental of Carrollton twice a year for an exam and cleaning.
Important to note is that while the titanium implant itself can last for decades, the crown or prosthetic supported by the implant will need to be periodically replaced – typically every 5 to 15 years.
Maintaining & Caring for Your Dental Implants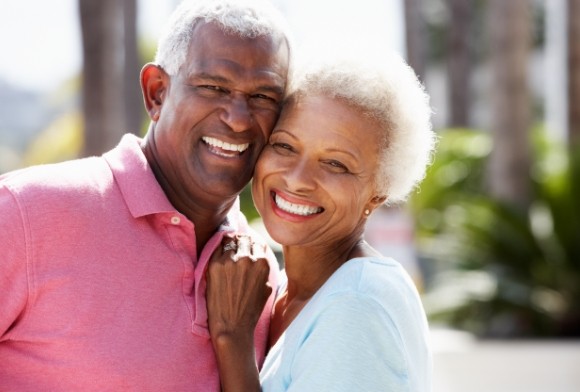 Dental implants offer lifelike, long-lasting results, and these effective smile restorations require patients to make a larger investment of time and money upfront than other solutions. Since no two treatment plans are exactly alike, our team will walk you through every step and the price associated with each before we begin restoring your smile. With this in mind, keep reading to learn some of the factors that influence the cost of dental implants in Carrollton.
Make Oral Hygiene a Priority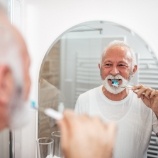 Just because dental implants can't develop cavities doesn't mean you can slack on your oral hygiene. Even if all of your natural teeth have been replaced, you'll still need to keep your mouth clean. Poor oral hygiene can easily lead to gum disease, which is the most common reason why dental implants can fail. Infections in your gums or remaining teeth can cause the jawbone to weaken and become unable to give your implants the support they need to thrive.
Luckily, day-to-day dental implant care in Carrollton is quite similar to that of natural teeth. Brushing twice a day for two minutes each session, flossing at least once a day, and regularly rinsing with an antibacterial mouthwash should be all you need to minimize plaque buildup at home.
Eat a Healthy Diet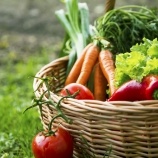 With dental implants, you can chew practically anything you want, so feel free to incorporate a wide variety of foods into your diet. That said, still try to limit your consumption of overly sugary, sticky, or hard foods. Sweets can increase the risk of gum disease and tooth decay, while sticky or crunchy foods can dislodge or damage the restorations on top of your implants. To keep your jawbone strong and your gums healthy, eat plenty of nutritious fruits and vegetables.
Break Bad Habits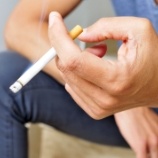 Most habits that could damage natural teeth are also harmful to dental implants. For example, chewing on pens/pencils or biting your nails can gradually wear down your restorations and place pressure on the implant posts themselves. Similarly, using your teeth as tools to open packaging can all too easily result in your implant, restoration, or natural tooth fracturing. We also highly recommend that you quit smoking before dental implant surgery, as tobacco threatens the success of your treatment by impairing the healing process and increasing your risk of oral infections.
Protect Your Dental Implants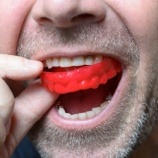 Although dental implants are incredibly strong, they're not indestructible. They can still become damaged and fail if exposed to sudden trauma from a sports-related injury or long-term wear and tear from chronic teeth grinding. To shield your implants and remaining teeth, wear a protective mouthguard. Our dentist can custom-make you one of these devices that fits comfortably over your teeth and cushions them against injury and grinding. Mouthguards from our dental office are much more effective than the one-size-fits-all options you can find at the drugstore.
Schedule Regular Dental Checkups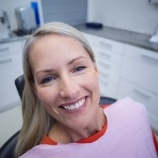 Visiting an implant dentist in Carrollton for routine checkups and cleanings is still essential, even if you have no natural teeth left. We can examine your implants, gums, and other oral structures and stop potential oral health problems in their tracks. Our hygienists can also give your implants (and natural teeth) a professional cleaning to reduce built-up plaque and tartar.