Invisalign® - Carrollton, TX
Get Your Best Smile… Invisibly
At Celebration Family Dental of Carrollton, we work to make your dental treatments as comfortable as possible. That is why we offer Invisalign clear braces to help you achieve a straighter smile without any metal brackets or wires. Treatment with Invisalign in Carrollton consists of wearing a series of removable, invisible aligners that will give you an amazing smile in the most convenient way. The aligners are switched out after a couple of weeks with the next set in the series. They are custom-made to fit your teeth and apply a gentle force to gradually bring your teeth into the desired positions. Keep reading to learn more about Invisalign in our Carrollton, TX dental office.
Why Choose Celebration Family Dental of Carrollton for Invisalign?
Treatment Plans for Teens and Adults
Friendly, Personable Dental Team
State-of-the-Art Dental Technology
What Are the Benefits of Invisalign?
Invisalign offers a wealth of benefits for patients who are interested in orthodontic treatment but do not wish to wear metal braces for a year or more. Invisalign can be used to treat gapped teeth, crowded teeth, as well as overbite, underbite, and crossbite. Some of the most considerable benefits for these treatment cases include:
Subtlety: Invisalign is made from clear plastic, and the trays are practically invisible when worn. You won't be worrying that the first thing anyone sees when you speak is braces.
Convenience: Removable aligners make it easy to eat what you want without worrying about popping off a wire or bracket. Plus, you can brush and floss just like you are used to doing.
Confidence: As long as you are wearing your aligners for 20 to 22 hours each day, you are free to remove them before big events, introductions, or presentations.
Comfort: Invisalign's smooth plastic aligners are typically more comfortable than fixed metal braces.
How Does Invisalign Work?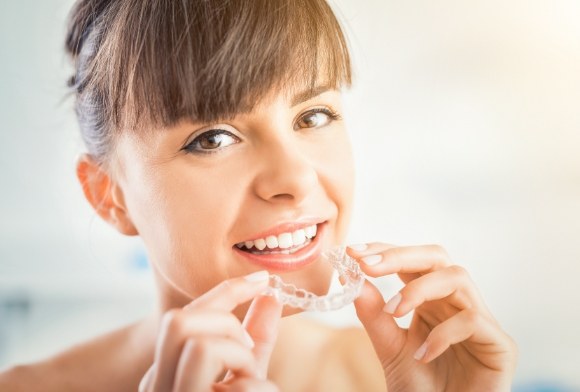 Invisalign works using a series of customized aligners which are created to fit tightly around the teeth. Each set will place focused pressure on a different area of the bite throughout the treatment. You should wear the aligners for 20 to 22 hours each day, removing them only to eat, drink anything but water, and before brushing and flossing. You will be advised to advance to the next set after 1 to 2 weeks, depending on our recommendation. We will also schedule a checkup approximately every 6 weeks to ensure everything is progressing as it should. After the treatment is complete, a retainer will be prescribed to keep your teeth in line for years to come.
How Do I Care for My Invisalign Aligners?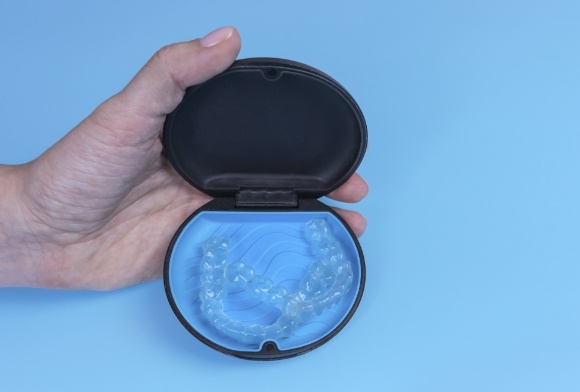 You should clean your Invisalign aligners daily with a gentle toothbrush and mild soap. Rinse them right after you take them out and before you put them back in again. Anytime you are not wearing the aligners, be sure to store them in the hard case that we give you to avoid accidentally losing or damaging them. Brush and floss your teeth after every meal and snack to prevent food particles from becoming stuck in the aligners and accelerating the rate of tooth decay. If you have any questions or suspect you have damaged an aligner, do not hesitate to get in touch with our dental office.
What Is the Invisalign Process?
Once we decide that you are a suitable candidate to receive Invisalign, we will work on preparing a custom treatment plan for you.
We will take the following steps:
STEP 1: During your initial consultation, you'll get to tell us about what changes you would like to make to your teeth and what kind of results you hope to achieve. Impressions of your teeth will then be taken and sent to the Invisalign dental lab.
STEP 2: The impressions of your teeth will be digitalized to help us analyze them in 3D using simulation software. We will then plan the precise movements throughout the course of your treatment. In this manner, we will be able to show you what your new smile will look like after Invisalign.
STEP 3: Once the treatment plan has been agreed upon, your custom aligners will be made, which you will wear for about two weeks before switching to the next ones in the series. The entire treatment may include 18 to 36 aligners for the lower and upper jaws depending upon the initial position of your teeth.
If you're ready to achieve a straighter smile without dealing with metal braces, contact us today.
Invisalign Frequently Asked Questions
The Invisalign system is a truly unique orthodontic treatment, so it's understandable to want to learn more before making your decision. For your convenience, we've gathered a few of the most common questions we get about Invisalign treatment below. We encourage you to look through them, and as always, call us to learn more!
Will Wearing Invisalign Aligners Hurt?
The metal wires and brackets used by traditional braces are notorious for painfully rasping against soft tissues. On the other hand, your Invisalign clear aligners will be crafted out of a single piece of smooth, biocompatible plastic to comfortably glide past your tongue, lips, and cheeks without causing irritation.
However, it's normal to experience some discomfort as your teeth are gently pushed into place by each new set of aligners. Patients report that this discomfort is mild, easily manageable, and dissipates within a few days. During this time, you can manage your symptoms by taking over-the-counter pain relievers as directed, applying an ice pack, and avoiding hard, crunchy foods. Additionally, many patients find that starting a new set of aligners right before bed allows them to sleep through most of the initial discomfort.
What Happens If I Don't Wear My Aligners for 20-22 Hours Every Day?
The removable nature of your Invisalign aligners is both one of its greatest freedoms and largest responsibilities. It's up to you to ensure that you faithfully wear your aligners for at least 20-22 hours every day. If you wear them less than that, the lack of constant pressure may allow your teeth to shift out of place and reverse your progress. Not only will this make wearing your aligners again more uncomfortable, but it could potentially increase the cost and timeframe of your treatment.
Will Wearing Invisalign Aligners Change How I Talk?
When you first begin your Invisalign treatment, it may sound like you have a slight lisp. Not to worry—this should fade quickly. The places your tongue typically rests against to make certain sounds are now covered by your aligners, which causes the change in speaking pattern. It will take a little bit of time and practice for your tongue to adapt to the new dental devices in your mouth. While this process should only take a week or so, you can help speed it up by speaking aloud and repeating words like "sixty" and "Mississippi."
Do I Have to Avoid Certain Foods or Activities During My Invisalign Treatment?
Unlike traditional braces, you can continue to enjoy all your favorite foods and activities during your Invisalign treatment! When it comes to eating, simply remove your aligners, enjoy your meal, and give your teeth a quick brush before popping your aligners back into place. You can also take out your aligners before playing a contact sport, practicing a woodwind or brass instrument, or attending a special event.
However, be sure to always keep your aligners in their case when you're not wearing them. It may be tempting to wrap them up in a napkin before getting a quick bite to eat, but it's all too easy to accidentally throw them away or leave them behind. Similarly, if you leave them out in the open, they could end up as a toy for a nearby child or pet.
Can I Get Invisalign If I've Had Traditional Metal Braces Before?
Many people who had traditional braces in childhood find that their teeth have drifted out of place again many years later, especially if they neglected to wear their retainer. Thankfully, Invisalign is an excellent choice for almost anyone who wants a straighter smile, even if you've had orthodontic treatment in the past! However, every case is different. During your consultation, we'll carefully inspect your bite and teeth alignment to ensure that Invisalign is a good choice for you.