Dentures – Carrollton, TX
Reclaim Your Lost Smile
Tooth loss not only affects the aesthetics of your smile, but it can also cause a number of issues related to your oral as well as your overall health. At Celebration Family Dental of Carrollton, we can provide a number of trusted solutions for the replacement of missing teeth. One of them comes in the form of dentures.
Dentures are just one of the methods we have to restore missing teeth; some others include dental implants and bridgework. Each treatment has its own particular advantages and disadvantages, and only an experienced dentist can help you determine which one is best for you. Fortunately, Dr. Shekhadiya and Dr. Ahir have the advanced training required to help you figure out the ideal way for you to reclaim your lost smile.
Why Choose Celebration Family Dental of Carrollton for Dentures?
Fully Customized, Highly Durable Restorations
High Standard of Care and Customer Service
State-of-the-Art Dental Technology
What Are Dentures?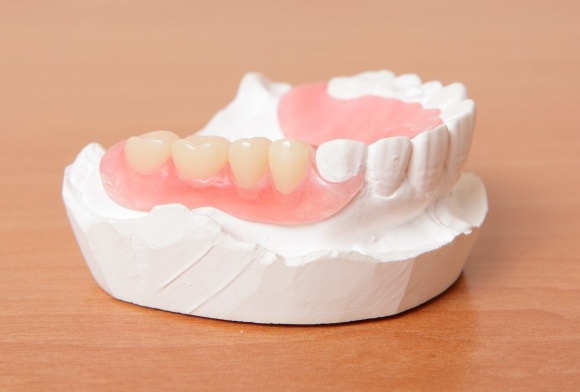 In addition to being either fixed or removable, dentures can come in one of three main types:
Partial Dentures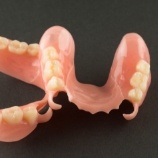 Partial dentures fill the gaps created by a few missing teeth. Conventional partial dentures use metal clasps to grip the backs of your remaining natural teeth, seamlessly fitting into your smile like a lost puzzle piece.
Full Dentures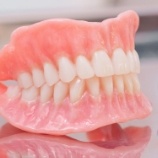 Also known as complete dentures, full dentures replace an entire arch of missing teeth. The part of a full denture that replaces the upper teeth has a flesh-colored acrylic base, which covers the gums and the roof of the mouth for a firm fit. The base for full dentures that fit over the lower jaw is shaped like a horseshoe in order to avoid covering the tongue.
Dental Implant-Supported Dentures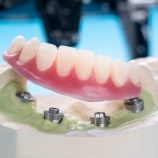 Implant dentures are attached to dental implants that are surgically placed into the jawbone. The titanium posts are placed over the course of a few visits to our practice. Implants provide a stable fit for your dentures to prevent them from slipping out of place. People with healthy gums and enough jawbone density are good candidates for implant dentures. Bone grafting may be needed for those who do not have enough bone density to safely support implants.
Implant dentures can be ball-retained or bar-retained. With bar-retained dentures, two to five implants in the jawbone are attached to a thin metal bar, and clips or other attachments are used to affix the dentures to the bar. Ball-retained dentures contain sockets which fit into ball-shaped connectors on the implants.
Benefits of Dentures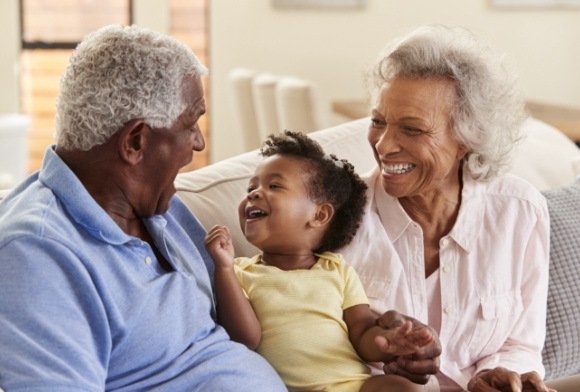 The dentures your grandparents wore may have looked or felt awkward, but dentistry has come a long way since then. Nowadays, each denture is designed to match your unique face shape and oral structures. Unless you go around telling people you have dentures, no one should be able to tell that they're not your "real" teeth.
When they're properly fitted, dentures should be quite comfortable in your mouth. They should be secure enough to not slip around when you're talking or chewing. Speaking of which, your chewing power will be restored, allowing you to enjoy a varied diet of healthy, crunchy foods like fresh produce.
Cost of Dentures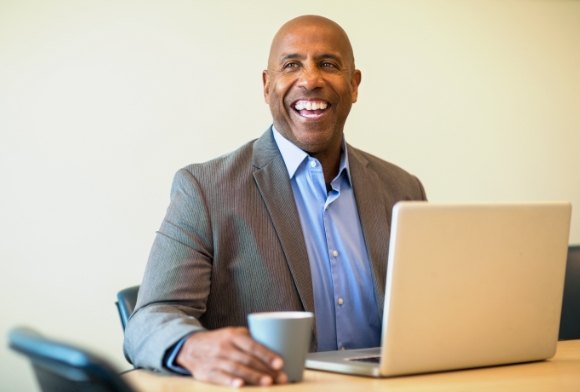 The price of your dentures will vary based on a few factors, such as:
What type of dentures you're getting
The materials the dentures are made of
Whether you need any preparatory work beforehand like tooth extractions or gum disease therapy
Whether you're receiving dental implants
Ultimately, we can't provide you with a cost estimate for your dentures without you coming in for a consultation. Rest assured, though, that the benefits of having a full and complete smile are worth every single penny.
Dentures FAQs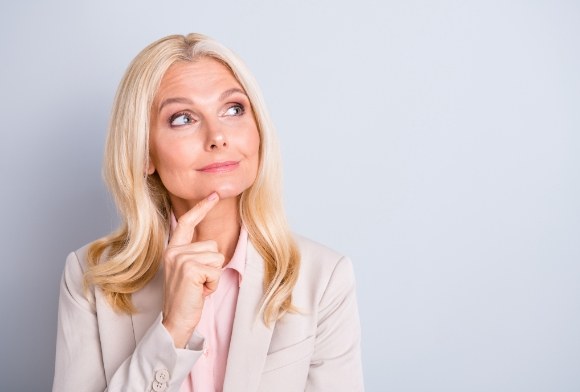 Are you ready to regain a full set of beautiful pearly whites with dentures? It's natural to have a few questions! That's why we've gathered some of the most common questions we get about this classic tooth replacement option. If you don't see the answers you're looking for below, don't hesitate to give us a call and we'll be happy to help!
I Need Dentures. Where Do I Start?
The first step on your journey towards a complete, confident smile is to schedule a consultation with us. During this initial appointment, we'll go over your goals and concerns for tooth replacement. Then, we'll inspect your mouth, review your medical history, and discuss with you which options we recommend for your unique smile. We want you to feel 100% confident in any treatment you choose, so we'll gladly take the time to answer all of your questions during your consultation as well.
Do I Brush Dentures Like Natural Teeth?
Just like natural teeth, it's important to clean your dentures every day to prevent plaque and bacteria buildup. Even if you have no natural teeth left, these dangerous particles can cause gum disease or oral infections. Thankfully, it's easy to keep your dentures clean! You should brush them every morning and night, as well as after every meal if possible. Remember to only clean them with special denture brushes and plain water—regular toothbrushes and toothpastes are too abrasive and can scratch away at your dentures!
How Long Will My Dentures Last?
Since your traditional dentures or partials rely on your gums and natural teeth for support, they'll begin to lose their fit as your mouth naturally changes shape over time. Typically, you'll need to replace them after five to seven years of use to keep your mouth healthy and comfortable. Their lifespan will also depend on how well you take care of them! Handling them carelessly or cleaning them with the wrong products could quickly cause them to break. However, if you choose to restore your smile with implant dentures, then you can expect them to last much longer. Thanks to their unique design, implant dentures can easily last for the rest of your life with the proper care.
Can I Eat Normally with Dentures?
Even though dentures can replace your missing teeth right away, it takes some time to get used to wearing them. It's important to remember to be patient with yourself as you learn how to eat with your new dentures. Start with small bites of soft foods, then move on to slightly more solid foods when you're comfortable. This process takes a different amount of time for everyone. Practicing and using a small amount of denture adhesive can help make learning a bit easier as well.
Does Dental Insurance Cover the Cost of Dentures?
Every dental insurance policy is different. To find out if yours covers the cost of dentures, you can either call your insurance provider or bring your insurance paperwork with you to your consultation. Our talented team has years of experience maximizing benefits to help our patients lower their out-of-pocket expenses. If your dental insurance policy doesn't cover dentures, or if you don't have dental insurance, we're also happy to offer low to no interest financing through CareCredit. A CareCredit plan will help break down the cost of your treatment into payments that can fit into your budget.
Dentures are a quick, easy, and affordable way to get back to enjoying your confident smile. Call and schedule your consultation today to see if this tooth replacement option is right for you!