Children's Dentistry – Carrollton, TX
Keep Little Smiles Bright
We love seeing our youngest patients grow up with bright smiles. One of our goals is to serve generations of patients, and a crucial step in that direction is making sure that children have positive dental experiences while they're young so that they continue to seek professional dental care once they're living on their own. Call Celebration Family Dental of Carrollton today to schedule your child's first appointment and get them started on the path towards a lifetime of healthy teeth with children's dentistry in Carrollton, TX.
Why Choose Celebration Family Dental of Carrollton for Children's Dentistry?
Variety of Treatment Options in One Location
State-of-the-Art Dental Technology
Gentle and Highly Personable Dental Team
Child's First Dental Visit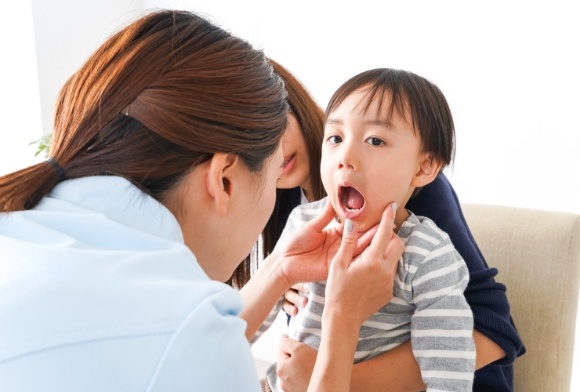 The first dental visit is a brief one and will involve only a small amount of treatment. The main purpose of this visit is to give your child the chance to meet their dentist in a comfortable and friendly way in order to pave the way for easier visits later. A dental examination will be conducted, during which we will check your child's bite and examine the teeth, jaw, gums and oral tissues for decay and abnormalities. We may clean the teeth and assess if a fluoride treatment will be needed as well. The visit will also involve providing you with detailed information about the basics of pediatric oral care and how to prevent the occurrence of common dental problems in children.
Some of the topics we may discuss with you include:
Oral habits (tongue thrusting, thumb sucking, or lip sucking)
Fluoride needs
Good oral hygiene practices for your child's teeth and gums
Cavity prevention
Developmental milestones
Proper nutrition
Teething
Importance of regular dental checkups
We will also answer any questions you may have about your child's dental health.
A child's first dental X-ray is usually taken when they turn 5 or 6. X-rays are vital in order to help us see the development of your child's permanent teeth. Some children may be at higher risk for oral problems than others. Such problems may include a cleft/lip, decay in the baby teeth etc. X-rays may be recommended at an earlier age in such cases.
Fluoride Treatment for Children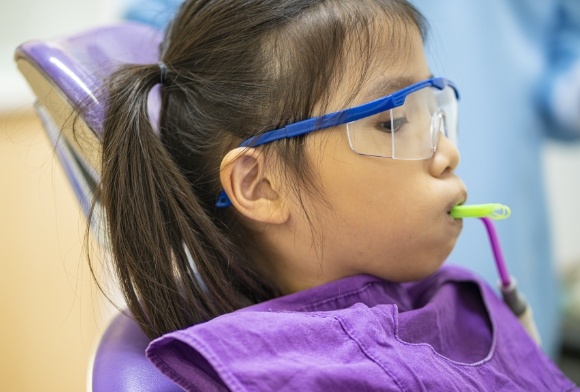 While fluoride has been shown to strengthen the teeth and protect them from cavities, it needs to be used judiciously with children. Too much fluoride at an early age can actually damage the teeth and even affect a child's overall health, but with our guidance, we'll make sure they get exactly what they need.
Learn More About Fluoride for Children
Dental Sealants for Children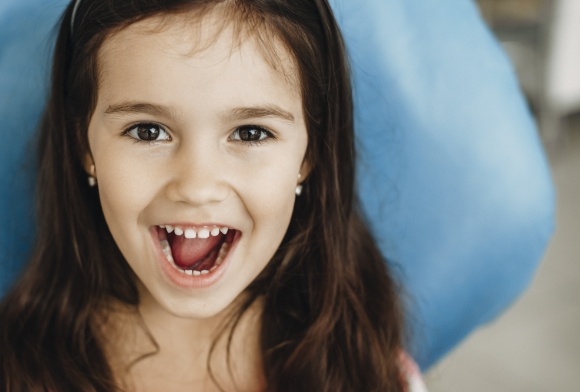 Children tend to have a bit of a tough time reaching their back teeth while they are learning to brush, and this is why the molars are the most common place for cavities to develop. With a dental sealant, we can give your child's smile a bit of extra protection right where they need it.
Learn More About Sealants for Children
Spacers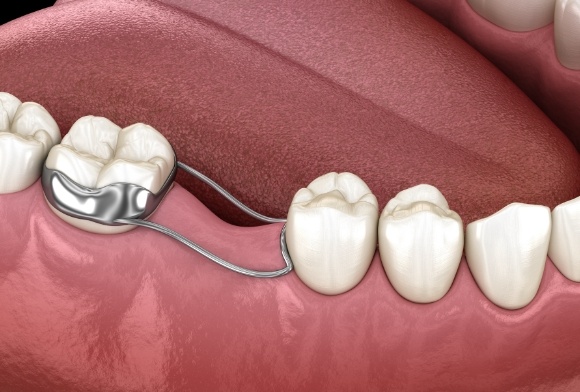 As we all know, baby teeth are supposed to fall out, but sometimes they don't quite fall out when they need to. If a tooth is lost too early, this can allow the remaining teeth to drift into the space and affect how the adult teeth erupt. With a spacer, we can keep the path clear for your child's developing teeth so you won't have to correct them later.
Children's Dentistry Frequently Asked Questions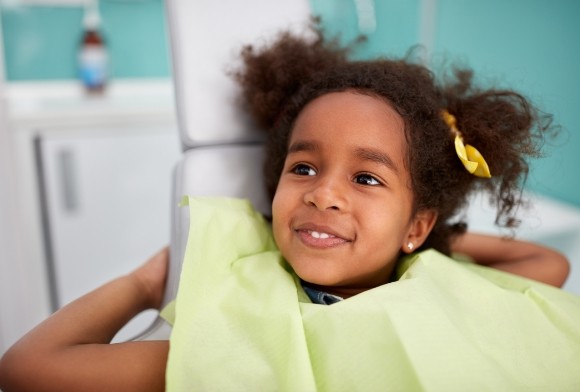 Parenting doesn't come with an instruction manual, so it's completely natural to have a few questions about caring for your son or daughter's smile! For your convenience, we've gathered some commonly asked questions below. We'll also be more than happy to answer your questions when you give us a call or during your little one's first dental appointment!
How Can I Prepare My Child for Their First Dental Checkup?
The goal of your child's first dental appointment is to introduce them to all the new sights, sounds, and friendly faces at our dental office. A great first visit can go a long way in how they view dental care for the rest of their lives! You can help your little one get ready to meet their Carrollton children's dentist by:
Using a positive, excited tone when talking about visiting the dentist.
Watching videos or reading books about going to the dentist.
Practicing for their appointment. You can have them sit in a chair while you use a toothbrush to count their teeth out loud.
Scheduling their appointment during a time when they're typically in a good mood, like after a meal or a nap.
Does Thumb-Sucking Influence My Child's Oral Development?
Thumb-sucking is a natural reflex in children that usually fades away by the time they're four years old. However, if they're still sucking their thumb at six years old, they may begin to damage their oral development. This habit can cause crooked permanent teeth and bite misalignment as their permanent teeth come in. We'll keep a close eye on their dental health as you bring them in for their biannual dental checkups, and we can offer advice or recommendations if you need assistance helping your little one break this habit.
Does My Child Need Dental Sealants?
As your child learns to brush their own teeth, it's likely that plaque and bacteria will begin to accumulate in hard-to-clean areas of their mouth. Dental sealants can be painted onto the pits and fissures in teeth that are difficult for your child to reach, which acts as an invisible barrier against harmful particles. We recommend sealants as a safe, simple way to help protect your child from cavities while they learn to brush their teeth.
When Should My Child Start Using Toothpaste?
When your child's teeth first begin to appear, you can clean them with a tiny smear of fluoride toothpaste about the size of a grain of rice. Once they are three to six years old, the amount should be increased to a pea-sized drop. Be sure to watch them and ensure that they spit out the excess toothpaste after brushing! As we monitor your little one's oral development during their checkups, we may recommend a fluoride treatment. This safe, non-invasive application of fluoride varnish to the surface of their teeth will strengthen their enamel and fortify it against decay.
What Should I Do If My Child Knocks Out a Baby Tooth Unexpectedly?
Oftentimes, a baby tooth will fall out after several days of wobbly anticipation. However, if your child takes a blow to the face, they may knock out a baby tooth that hadn't begun to feel loose yet. In these cases, you should call us right away. If the tooth was knocked out very prematurely, we may need to place a space saver to keep the neighboring teeth from crowding in and trapping the permanent tooth underneath.