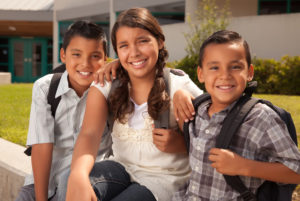 Good oral health habits should start at a young age, and that includes more than just brushing and flossing every day. Regular dental checkups with a children's dentist are a key component to maintaining a healthy smile and preventing tooth decay, the most common chronic disease for children ages 6 to 19, according to the Centers for Disease Control and Prevention. The start of the new school years marks the perfect opportunity to plan a trip to a children's dentist in Carrollton for a routine exam and cleaning. Keep reading to learn more about why your child should see the dentist before the end of summer.
How Oral Health Influences Academic Success
While the connection may not be obvious, oral health is directly linked to a child's performance in the classroom. Toothaches from cavities and other dental pain can make it more difficult for your child to focus in class and less likely to actively participate during lessons.
In addition, if serious dental issues are not identified and addressed early on, they could cause your child to miss out on valuable class time. Indeed, each school year children with dental diseases miss more than 50 million hours of school, according to the American Dental Association. Preventive checkups can help your child maintain good oral health and a sterling attendance record at school.
What Occurs During a Regular Dental Checkup?
Here are a few reasons why seeing a children's dentist on a regular basis is a good idea:
Identify Hidden Problems – Nearly 1 in 5 school-aged children have untreated tooth decay. During a regular dental checkup, a dentist can discover and treat small problems before they worsen.
Professional Teeth Cleaning – A back-to-school checkup is an opportunity for your child to have their teeth expertly cleaned by a dental professional.
Mouth Protection – If your child participates in organized sports, ask their dentist about how a custom mouthguard can help protect their teeth.
Oral Health Education – During your child's dental appointment, the dentist will talk to them about how to practice good oral hygiene and why it is important to keep their mouth healthy and clean.
When Is the Best Time to Visit a Children's Dentist?
The American Dental Association recommends scheduling regular dental checkups every six months. If you are planning on taking your young son or daughter to a dentist in Carrollton soon, do not wait! Between after-school sports and activities, homework in the evenings, and play dates with their new friends on the weekend, finding time for a routine dental appointment will be even more difficult once the school year starts. Scheduling a back-to-school appointment early on can ensure that your children return to school for the new year with a smile on their face!
About the Practice
At Celebration Family Dental, the whole family – from grandparents to grandkids – can have their dental care needs met under one roof! As a true private family practice, patients are greeted by the same friendly faces every time they step through the door. In addition, with flexible hours and Saturday availability, parents should have no trouble scheduling a back-to-school appointment for their kids. If you want to contact Celebration Family Dental, visit their website or call the office at 469-892-6647.