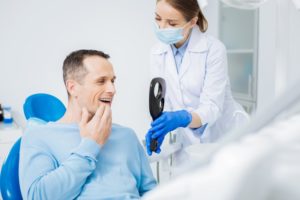 As an adult, you're responsible for a variety of things in life. From going to work, paying your bills, taking your kids to soccer practice, and even practicing good oral habits, you have a lot on your plate. Yet, just because you have a lot of responsibilities doesn't mean you can slack on any of them, right? We know that sometimes, your oral health may take a backseat to other things in life, but if you want to keep your teeth and gums healthy for the rest of your life, it's important you maintain good adult oral health in Carrollton. If you're wondering how you can achieve this, let us answer some of your questions.
What Happens if I Avoid the Dentist?
Each time you avoid a regularly scheduled dental appointment, you are increasing your chances for tooth decay, gum disease, cavities, or an array of other oral health-related problems. When plaque and tartar build above and below the gum line, your gums can become red, inflamed, and may even bleed, which are all signs of gum disease or periodontal disease. If these symptoms worsen, you can develop periodontitis, which can result in tooth loss.
Should bacteria begin to eat away at the enamel of your teeth, it can burrow and create holes, also known as cavities. When they form, it is imperative that they be filled promptly to prevent further infection and decay.
All of this can be prevented or least caught early if you visit your dentist in Carrollton regularly.
How Can I Improve My Oral Health?
Are you looking for some best practices to help you keep your mouth clean and healthy? Here are a few ways you can take back your oral health and start on a path to a brighter, more beautiful smile.
Brush twice a day (first thing in the morning and before you go to bed at night) for two minutes each time.
Floss at least once a day to remove bacteria and food particles living between your teeth.
Clean your tongue using a toothbrush or tongue scraper.
Use fluoride toothpaste to protect against tooth decay and strengthen the enamel of your teeth.
Use an antiseptic mouthwash.
Drink plenty of water to stay hydrated and keep your salivary glands working at an optimal level.
Limit the amount of sugary and acidic foods, as it causes bacteria to breed on your teeth and gums.
Eat crunchy fruits and vegetables.
Visit your dentist twice a year for regular checkups and cleanings.
What Foods and Drinks Are Good to Eat and Avoid?
When determining which foods and drinks to incorporate into your diet to maintain good oral health, keep these in mind:
Water
Fruits and vegetables
Whole grains
Lean protein
Low-fat or fat-free dairy
And make sure to avoid the following to prevent tooth decay:
Acidic foods and drinks
Sports juices
Soda
Candy
Chips
Dried or sticky foods
It doesn't have to be hard work to maintain healthy teeth and gums, which is why your dentist can be your best friend in the fight against tooth decay. Do your part, and not only practice good oral habits at home, but see your dentist twice a year for regular checkups.
About the Practice
We know going to the dentist can be scary or dreadful for some, which is why Celebration Family Dental is dedicated to creating a welcoming environment for you each time you visit! Offering comprehensive services ranging from basic, preventative care to restorative dentistry, you can expect to receive a quality of service that is different from a typical dental practice. To learn more, contact us via our website or by calling (469) 892-6647.