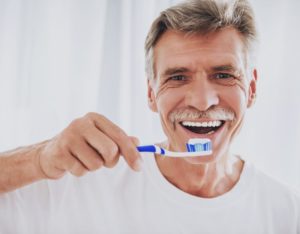 We all know that we need to brush and floss every day to keep our teeth healthy. But is there more to it than that? As it turns out, yes. You should do much more than just brush and floss in order to keep your teeth and gums in good working order. Let's talk about 4 habits that you should integrate into your daily life to have a good oral health care routine.
1. Brush Twice a Day for Two Minutes at a Time
Many of us do a great job of brushing at least twice a day, but we often don't brush long enough. Set a timer for two minutes, and make sure you reach all sides of the teeth. In addition, using fluoride toothpaste can provide extra protection against cavities. Make sure you use a toothbrush with soft bristles, especially if you have sensitive teeth.
2. Floss At Least Once a Day
In a perfect world, we would all floss right after we brush our teeth, but a lot of us think of it as too much of a hassle. However, flossing once a day is enough to keep bacteria at bay. One way to remember to floss every day is by keeping those little containers of floss in several different places. You can put them in your glove compartment, your purse, your desk drawer at work, your bathroom, and more. That way if you ever get the urge to clean your teeth, you can simply reach for the floss.
3. Use Non-Alcoholic Mouthwash
Rinsing with mouthwash after you brush and floss can actually help clean parts of your teeth and gums that you can't access with a toothbrush or floss. Using a mouthwash with alcohol works perfectly fine, but it can cause a burning sensation and dry out your mouth. In addition, if you have a history of alcohol abuse, you may want to steer clear of alcoholic mouthwash, just in case.
4. Eat Teeth-Healthy Foods
Be sure to avoid sugary foods and eat these for good oral health:
Cheese. Cheese contains calcium and protein, which can strengthen tooth enamel. It's also theorized that the strength required to chew cheese increases saliva in the mouth. Saliva washes away bits of foods that can cause cavities, so it's important that you have plenty of it.
Yogurt. In addition to being high in protein and calcium, yogurt also contains probiotics. These good bacteria can crowd out the bad bacteria that cause cavities.
Leafy greens. Greens are full of vitamins and minerals that can strengthen teeth.
Almonds. These are a good source of calcium and protein while also being low in sugar.
Try implementing these habits into your daily life. Your mouth will thank you in the future. If you would like to know more about how you can keep your mouth healthy, contact your dentist.
About the Practice
At Celebration Family Dental in Carrollton, TX, we can treat all members of the family under one roof. We also strive to make your visit as comfortable and painless as possible. To learn more about how we can help keep your smile happy and healthy, click here or call (469)-892-6647.