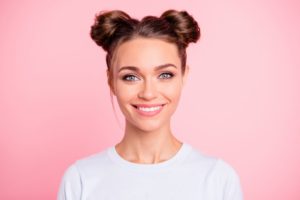 Do you ever feel like you have too many teeth in your mouth? It can make chewing, smiling, and even talking difficult. You may have crowded teeth – a fairly common condition that can be easily fixed. Luckily, your cosmetic dentist offers 3 options to fix this issue. Read on to learn all about your choices.
Tooth Recontouring
Tooth recontouring is a quick and easy way to fix teeth that are overcrowded. The process starts by taking x-rays to determine how much enamel you have left on your teeth. This is important, since the procedure will involve shaving off some enamel. After x-rays have been taken, your dentist will reshape your teeth, so they fit more uniform inside your mouth. The whole procedure can be done in one appointment.
Invisalign
If you don't want to sacrifice some tooth enamel, Invisalign may be the option for you. It consists of a set of clear plastic trays that are worn snugly over your teeth that gradually shift them into a straighter position. Simply wear your aligner trays for at least 20 hours a day, only taking them out to eat, drink, brush, and floss. Although treatment typically takes around 12 months, your straighter smile can last a lifetime with proper care. In addition, Invisalign offers many benefits over traditional braces, such as:
No dietary restrictions
Removable for special events like a job interview
Discreet, almost invisible aligners
More comfortable than metal brackets and wires
Porcelain Veneers
Porcelain veneers are one of the most popular cosmetic procedures, and for good reason. They can solve multiple issues in your smile, including crowded teeth. They are thin shells of dental porcelain that are placed on the front surfaces of teeth to conceal several types of imperfections and give your teeth a more even appearance. After your initial consultation, veneers can be placed in just two appointments.
At your first visit, a tiny layer of enamel will be removed from the surface of your teeth so that your veneers will sit flush against them. Your cosmetic dentist will then take impressions of your prepared teeth and send them off to the lab, where your new smile will be crafted. In the meantime, you will receive temporary veneers to protect your teeth and get used to the way they feel. Return to the office in two or three weeks when your permanent veneers are ready, and voila! You'll have a perfect, even smile for years to come!
No matter how overcrowded your teeth are, your dentist has a way to fix them. Ask your dentist today about any of the options listed above.
About the Author
Dr. Rajiv Shekhadiya earned a dental degree in India before moving the United States and pursuing a Doctor of Dental Surgery from New York University and then eventually making Celebration Family Dental in Carrollton, TX his new home. He is a member of the American Dental Association, the Texas Dental Association, and the Dallas County Dental Society. To learn more about how to fix your crowded teeth, contact him at (469)-892-6647.