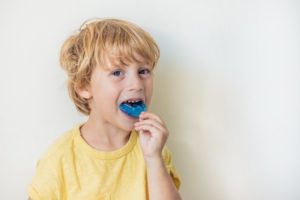 Your kid's smile is the most precious thing in the whole wide world. You want to protect it no matter what. Do you know what the best way to do that is? It's by investing in a dental mouthguard from your children's dentist. These plastic trays worn over the teeth are the perfect way to protect your little one's budding smile from injury due to impact during contact sports. Let's learn a little bit more about mouthguards, including what they do and what types of mouthguards there are.
What Are Dental Mouthguards?
Mouthguards are plastic trays that are designed to fit over the teeth to protect against injuries during contact sports or other physical activities. They can prevent multiple kids of injuries such as:
Chipped or broken teeth
Fully or partially dislodged teeth
Lacerations to the gums, tongue, or soft tissues in the mouth
Bleeding
The American Dental Association estimates that more than 200,000 oral injuries are prevented each year by athletes wearing mouthguards. They are often not viewed as essential in the same way that helmets are, but they are just as important when preventing serious injury.
What Are the Types of Mouthguards?
There are three main varieties of mouthguards:
Over the counter: You can buy these at most pharmacies and sporting goods stores. They come pre-made and are designed to be one-size-fits-all. Unfortunately, this means they don't actually fit most people as well as they should.
Boil and bite: These fit a little better. First you soften them by exposing them to heat. Then you bite into them and can adjust the fit with your teeth, tongue, and fingers. They are better than their generic counterparts, but they don't provide the same snug fit and protection that custom mouthguards from your children's dentist can give.
Custom made: Your dentist can take impression of your little one's teeth and send them off to a dental lab. This way it fits more snugly and provides more protection. In addition, the material is stronger yet lightweight, making it much more comfortable.
Wearing a mouthguard is not required by most schools for physical activities, but it should be. They can protect against most dental injuries. The next time you visit your children's dentist, ask if they can craft a mouthguard to protect your little one's precious smile.
About the Practice
At Celebration Family Dental in Carrollton, TX, we want to change the idea that going to the dentist is something to be dreaded. Our dentists, Drs. Ahir and Shekhadiya, treat patients of all ages with a wide variety of services under one roof, including prescribing custom mouthguards to protect your child's pearly whites. To get started on crafting a mouthguard for your kid, contact us on our website or call (469) 892-6647.