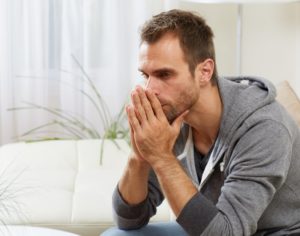 The holidays are a joyous yet, hectic time of year. While you may be excited about family arriving, wrapping gifts, and preparing a traditional dinner, all these can cause increased anxiety, which can negatively impact your oral health, especially, your teeth. If you find that your pearly whites appear worn down and your inability to manage the pressure is leading you to grind and clench your teeth, it's time to find out how stress and oral health are connected as well as what you can do to prevent bruxism from damaging your smile.
What is Bruxism?
Bruxism is a clinical term used when the jaw clenches and teeth begin to grind against each other. Also known as teeth grinding or clenching, it is common among individuals throughout the United States and leads to excessive wear and tear on your teeth as well as chronic jaw pain that can cause temporomandibular joint disorder (TMD).
While improper alignment can cause bruxism, so can stress and anxiety if not properly treated.
How Are Stress and Oral Health Connected?
When you become stressed, what do you do? For some individuals, it may mean resorting to hair pulling. For others, it may be teeth grinding. If you fall into the latter category, you might be noticing the wear and tear your teeth are experiencing.
From work to school to family and friends, stress can rear its ugly head in a variety of ways, but if the only you're "dealing with it" is by grinding your teeth, you'll be at an increased risk for causing serious damage to your smile.
Stress fractures can occur throughout your smile as small vertical cracks. Although often mistaken for cavities, if left untreated, these fractures can lead to actual cracks and necessary restorative and/or cosmetic dentistry to fix them.
What Can You Do to Prevent Teeth Grinding?
The safest, most effective way to prevent teeth grinding is to wear a nightguard. These custom-made oral devices are designed to prevent your teeth from coming into contact with each other. Made of durable plastic, they are lightweight and easy to transport.
If you're looking for ways to lessen your stress and, in turn, eliminate bruxism, it is also strongly encouraged that you:
Take long walks before you go to bed
Enjoy a long, hot bath
Listen to soft music
Meditate
Eat fresh fruits and vegetables
Stress can have a harmful impact on all areas of your health, not just your teeth, but if you want to keep from having what will become necessary dental work, it's time to talk to your dentist about receiving a customized nightguard to protect your teeth.
About the Practice
At Celebration Family Dental, we understand that daily life can present many challenges that are stressful and can negatively impact your oral health. This is why we are dedicated to creating a welcoming environment for you each time you visit! By offering comprehensive services and ensuring you are comfortable and at ease during your visit, we will work to restore, rebuild, and transform your smile into something beautiful and free of damage. To learn more about the services we offer and how we can help you live a more stress-free life, contact us via our website or by calling (469) 892-6647.