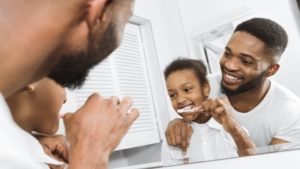 Have you ever wondered why February is officially dubbed as Children's Dental Health Month? Parents know how difficult it is to encourage their little ones to take proper care of their teeth and gums. Dedicating a few weeks out of the year to building great oral habits with your child can help them build a routine that will prevent problems from developing when they're adults. Read on for four tips from a children's dentist to get your little one interested in brushing and flossing.
Have Them Brush & Floss Next To You
Parents are often a mentor for children, and they learn some of their best qualities and habits by mimicking your actions. That also applies to your nightly and morning dental hygiene routine. A great way to encourage your child to get into the habit of cleaning their teeth and mouth is to do it side-by-side. That way, you can observe their technique and correct it as well, to make sure they're effectively clearing plaque and food debris from their mouth. When they see how invested you are in maintaining a healthy mouth, they'll be more apt to feel the same way.
Turn a "Chore" Into a Game
It's important to brush twice each day for two minutes and floss at least once every day. For children, this can make morning and nightly oral hygiene routine feel more like a chore than a necessity, causing them to lose their motivation and engagement in the tasks. One great way to build dedication to daily brushing and flossing is to make it feel more like a game. You can do this by:
Brushing during a commercial break of their favorite morning or nightly cartoon. The average cable commercial break lasts between three to seven minutes, so you can have your child brush a quadrant of their mouth during each 30-second advertisement. Once they've finished with that, there will still be enough time to floss their teeth.
Set a timer to get them used to how it feels brushing for two minutes. There are also children's toothbrushes that play their favorite song for two minutes.
Offer fun incentives when they're diligent about brushing and flossing every day.
Get Them The Right Dental Tools
Children's dental hygiene products are specially shaped and made to be easy to handle and fit in their mouths, making it easier to brush and floss. You can also get them to brush their teeth more by purchasing decorations and tools that are exciting to use and look at, like a toothbrush holder with their favorite characters and colors on them.
Take Them to Visit Their Dentist
Taking them to visit their children's dentist early on can be a great way to inspire them to become passionate about taking care of their oral health. Because their dentist is so familiar with working with children, they'll have some effective tricks and tips up their sleeves to encourage your little one and promote a lifetime of good oral hygiene.
About the Author
Dr. Dhiren Ahir has an extensive background in providing patients of all ages with exceptional dental care. He's known for his calm and relaxed chairside manner, creating a positive environment where children can feel comfortable, even if it's their first time receiving dental care. He has also taken advanced education courses that have provided him with special skills for treating patients who have anxiety or fear associated with the dentist. For questions or to schedule a children's checkup and cleaning, visit Celebration Family Dental's website or call 469-892-6647.