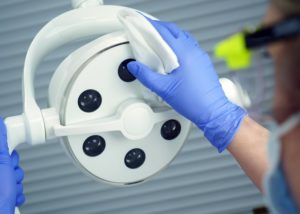 Whether your local dental practice is preparing to reopen or is continuing to see only emergency patients for the current time, it's important to understand what they are doing to keep everyone safe. Although dental offices are some of the cleanest places you can visit right now, COVID-19 is causing additional protocols to be put into place. From proper handwashing etiquette to increased awareness efforts with appropriately placed signage for visitors, find out what your dentist is doing to lower the risk of possible COVID-19 transmission.
Dental Offices and Cleanliness: What the CDC Recommends
The Centers for Disease Control & Prevention (CDC) has recently released additional protocols for dental offices to follow amid the COVID-19 crisis. Whether you are preparing for an emergency visit because of a severe tooth infection, or your dentist's office is preparing to reopen for regular visits, your dental team is adhering to the following recommendations provided by the CDC:
Increasing signage for patients to review that detail proper handwashing etiquette, effective ways to sneeze and cough without transmitting germs, what to do if exhibiting symptoms of COVID-19, and how to practice proper social distancing.
Wearing personal protective equipment (PPE) for all staff. While administrative, front desk members may only need to wear a face mask, others will be required to wear protective eyewear, gloves, a disposable gown, and/or a face shield when assisting with patients.
Performing daily temperature checks on all staff to ensure everyone is healthy and able to be at work. This will also include proper COVID-19 screening.
Pre-screening all patients when arriving for an appointment. This includes a non-contact temperature check and health questionnaire.
Increasing sanitizing and disinfecting efforts to ensure all dental instruments, equipment, and surfaces are thoroughly cleaned after each patient.
What to Do Before Arriving for an Appointment
While your dentist's office works hard to stay on top of the newly established rules, you can also make sure you take additional precautions to keep yourself and others safe. Some ways you can do this include:
Staying home if you feel ill or have tested positive for COVID-19
Washing your hands with soap and water for at least 20 seconds or using hand sanitizer with at least 60% alcohol if you do not have access to soap and water
Sneezing or coughing into a tissue and/or using the bend of your elbow
Practicing social distancing when you arrive for your appointment. If your dentist is using a virtual waiting room, you will need to wait in your vehicle until it's time for your appointment. Otherwise, maintain at least 6 feet between you and the next patient
These precautions are designed to keep you, staff, and other patients safe. By working together, we can move through this "new normal" with ease and get back to helping you achieve a healthier, more beautiful smile.
About the Practice
Our team at Celebration Family Dental wants you to feel confident when visiting our office. Because of COVID-19, we are taking extra steps to provide a safe and clean environment when you arrive. From increasing our sanitizing and disinfecting efforts to wearing appropriate protective equipment to generating more awareness about standard protocols, this "new normal," is one we're all in together. If you are preparing for an upcoming visit and want to know more about our safety precautions, visit our website or call (469) 892-6647.