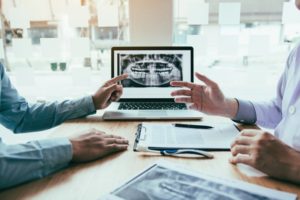 You're probably familiar with getting dental x-rays taken during your biannual oral health exams. However, did you know that not all x-rays are the same? In fact, there are a variety of types of x-rays your dentist may use during your regular dental checkup, depending on what they're looking for. Read on to learn more about the five most common types of dental x-rays and how they help keep your smile happy and healthy for a lifetime.
Bitewing X-Rays
It's common for your dentist to request one or more bitewing x-rays every six to 12 months during your checkups. These x-rays are used to get a good look at a specific area of your mouth. Each bitewing x-ray captures the visible part of your upper and lower teeth as well as half of their roots and the supporting bone tissue. Typically, they are used to detect cavities, especially those that are hiding between teeth, and changes in your jawbone caused by gum disease.
Periapical X-Rays
To view the whole extent of a tooth, a periapical a-ray may be used. These show the visible crown of a tooth, its roots beneath the gumline, as well as where it attaches to the jawbone. This allows your dentist to check for any unusual changes to the roots or surrounding bone structures.
Full Mouth Survey X-Rays
A full mouth survey x-ray uses a combination of both bitewing and periapical x-rays. This series of images comes together to form a picture of your whole mouth, as its name suggests. Usually, these are taken if you're a new patient at a dentist's practice to form a baseline of your oral health. However, these extensive x-rays are also commonly used if your dentist suspects you may have a jaw cyst or need a significant treatment such as a root canal, tooth extraction, or gum disease therapy.
Panoramic X-Rays
Just like a panoramic photo, a panoramic x-ray captures a single image of your entire mouth at once. This single x-ray is able to show all the teeth in both the upper and lower jaw in a single image. It will clearly show the position of all your fully emerged teeth as well as the presence of emerging or developing ones. Your dentist will use these to diagnose impacted teeth as well as hidden tumors.
Occlusal X-Rays
Occlusal x-rays are commonly used by pediatric dentists. This type of x-ray tracks the development and placement of a section or entire arch of teeth in either the upper or lower jaw. They're often used to help find children's teeth that have not broken through the gums yet.
Thanks to advancements in x-ray technology and safety regulations, dental x-rays are very safe to use. With their help, your dentist can find hidden oral health issues and treat them before they cause you any unnecessary damage or discomfort.
About the Practice
At Celebration Family Dental, we agree with the American Dental Association and encourage all our patients to get their routine dental checkups twice a year. We are proud to offer the families of Carrollton, TX and the surrounding communities high-quality dentistry using state-of-the-art equipment. We utilize innovations like digital x-rays, intraoral cameras, and laser dentistry to spot and stop issues as early and comfortably as possible. If you'd like to learn more about our advanced technology, feel free to ask us during your next checkup or reach out to us via our website or at (469) 892-6647.