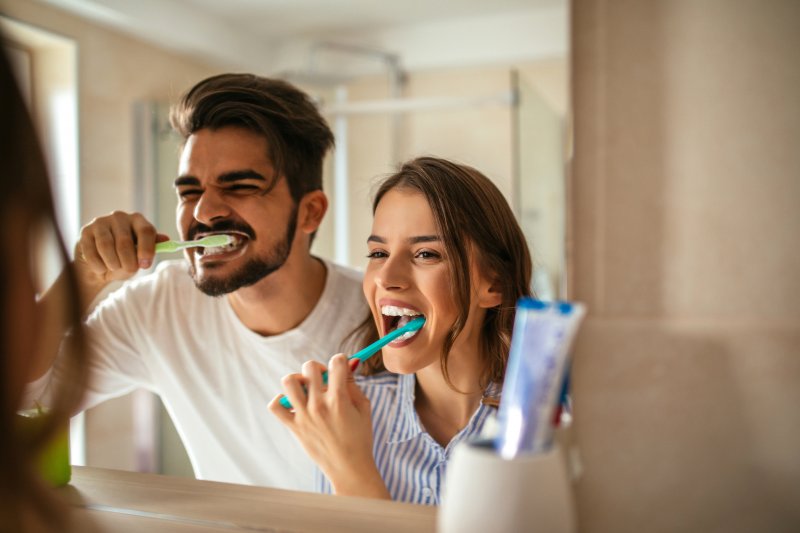 October means cooler temperatures, weekends watching football, and lots and lots of candy. However, it's also National Dental Hygiene Month! At first, it may seem like just another social media holiday, but it serves a very important purpose. After all, over 90% of Americans have had at least one cavity by their 21st birthday and roughly 50% struggle with gum disease. So, it's safe to say our dental care regimen needs an upgrade! With this in mind, read on for five oral hygiene tips to implement for a healthier smile.
#1. Always Brush Your Teeth Before Bed
Have you ever accidentally fallen asleep without brushing your teeth? Or maybe a long day made you consciously decide to get under the covers before completing your oral hygiene routine. Either way, neglecting to brush before bed allows food particles, plaque, and bacteria to cling to your teeth and gums throughout the night, leaving you vulnerable to tooth decay, cavities, and gum disease. Therefore, it is of the utmost importance that you always brush your teeth before getting some shut-eye.
#2. Floss, Floss, Floss!
Unfortunately, many patients view flossing as optional. In fact, roughly 37% of Americans don't floss daily and an additional 30% never floss at all. These numbers are especially troubling since brushing alone only cleans about 60% of the surface of your teeth. So, before your wrap up your oral hygiene routine, make sure to grab your floss pick or water flosser!
#3. Use Mouthwash Regularly
Another crucial component of dental care that people often forgo is mouthwash. However, this powerful liquid has been shown to kill over 99% of the germs that cause bad breath, plaque, and gingivitis. Therefore, to keep your teeth and gums in pristine condition, you must incorporate mouthwash into your daily routine.
#4. Limit Sugary Foods and Beverages
The concept of limiting sugary foods during Halloween seems strange. After all, it is the most candy-filled holiday – especially since the average American consumes roughly 3.5 pounds of candy during this season. Unfortunately, eating that much sugar can lead to tooth decay and cavities that last long after the spooky décor is gone. Protect your oral health ahead of time by limiting sugary foods and beverages, like soda and candy.
#5. Visit Your Dentist Bi-Yearly
Practicing a proper dental hygiene regimen at home is crucial, but so is visiting your dentist twice a year. The instruments they have at their office are the only way to effectively remove stubborn plaque and tartar. Plus, your dentist can catch small issues before they become large dental concerns, which can protect your teeth from cracks and fractures that necessitate an emergency visit. So, if you haven't visited the dentist yet this year, there is no time like the present to schedule your appointment!
Your smile is unique and an important part of who you are, so make sure to take care of it! This National Dental Hygiene Month, make sure to incorporate the above tips to keep your teeth and gums in tip-top shape.
About the Practice
At Celebration Family Dental, high-quality dentistry, flexible appointment options (including Saturday availability!), and a comprehensive array of services come together for one truly exceptional dental experience. At each appointment, Dr. Rajiv Shekhadiya and Dhiren Ahir use their extensive education and clinical experience to help patients of all ages achieve pristine oral health. So, if you are overdue for your bi-yearly appointment or your teeth simply need some end-of-the-year TLC, visit their website or give them a call at 469-892-6647.