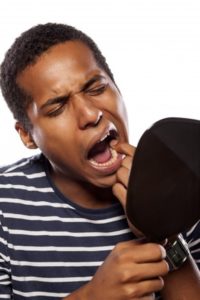 When you were a child, feeling a wiggling tooth was an exciting time. It meant you'd get to place your tooth under your pillow and wake up to find it replaced with money. But if you're an adult and notice that you have a loose tooth, your reaction is probably going to be a bit different. Keep reading to learn what you should do in this situation and what it could mean for your oral health.
Schedule a Dentist Appointment
The first thing you should do when you notice a loose tooth is to contact your dentist as soon as possible and schedule an emergency appointment. It may not seem like that big of an issue, but loose teeth in adulthood is not common and should not be ignored. Typical causes include advanced gum disease, an injury or teeth grinding. Gum disease is an infection that can cause tooth loss and deterioration of the jawbone.
Try Not to Move It
Do your best to avoid moving your tooth with your tongue or anything else. While keeping your mouth clean is very important, you should not brush or floss it. Instead, gently rinse your mouth with warm salt water. This will help clean the area and reduce the buildup of plaque. Moving it can make your situation even worse.
No Gummy, Sticky or Hard Foods
If you have a loose tooth, you should avoid all sticky, gummy or hard foods. These could cause your tooth to come out. Even if you believe your dentist will pull it during your appointment, do not attempt to do it yourself. This can increase your risk of developing an infection.
Keep the Tooth Moist
Whether your tooth is still in your mouth or it has been knocked out, keep it moist. If your tooth has come out, placing it in milk within 5 minutes can preserve it for up to an hour. Milk has proteins that keep a constant acid-to-alkaline ratio. It also contains antibacterial substances and sugars that enable the cells in your tooth to keep growing. But don't soak your tooth in milk for more than 10-15 minutes, as this can cause your tooth to dry out. Soaking the tooth in water will cause the tooth's cells to swell and burst, making it impossible to re-implant.
No matter what has caused your tooth to become loose, rest assured that your dentist can help. Until you're able to get into the office, they can tell you what to do for the best possible outcome. Just because it's loose doesn't mean you have to lose it.
About the Author
At Celebration Family Dental, Drs. Rajiv Shekhadiya and Dhiren Ahir provide their patients with personalized, comprehensive dental care. They are both affiliated with the American Dental Association, the Texas Dental Association and the Dallas County Dental Society. This team of doctors offers many services that range from preventive care to emergency dentistry. If you need help with a loose or knocked out tooth, contact the office at (469) 892-6647, or visit the website to schedule an appointment right away.