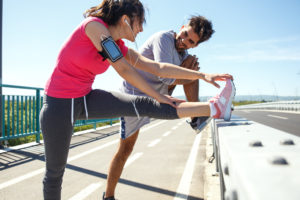 Break out the grill and grab your sunscreen, summer is almost here! While flipping burgers and laying out by the pool may be your top priorities this summer, don't forget to visit your dentist too. While regular dental checkups are always a good idea, the beginning of summer is an especially good time to talk to your dentist about dental implants. If you are missing one or more teeth, now is an ideal time to get started with implant treatment. Below are a few reasons why this is the case.
The Benefits of Dental Implants
With more than 5 million dental implants placed each year in the United States, implant treatment has quickly become one of the most popular ways to replace missing teeth. Thousands of patients in Carrollton and millions across the country are drawn to dental implants for their many benefits, such as:
Stability – Implants provide an extremely stable base for replacement teeth by fusing directly with the jawbone, a process known as osseointegration.
Natural Appearance – Implants are designed to blend in seamlessly with your natural teeth.
Prevent Bone Loss – Dental implants prevent bone deterioration by stimulating the jawbone.
Chewing Power – Dental implants restore 70% to 90% of natural chewing power.
Long-Term Results – With proper care, dental implants can easily last for decades!
Start Rebuilding Your Smile this Summer
Before your dentist can attach a crown, bridge, or denture to your dental implants, the implants must first integrate with your jawbone. It typically takes a few months for implants to heal and fuse with the surrounding bone. That is one reason why summer is the ideal time to begin implant treatment. As you begin the recovery process, you can relax near the pool or hang out on the back patio instead of being cooped up inside.
There are also many delicious soft summer foods to choose from following implant surgery. Smoothies, apple sauce, mashed potatoes, ice cream, and other similar foods are all safe to eat during the first few days after getting implants placed.
Finally, starting implant treatment in the summer means you will likely be finished in late fall or early winter. There are always plenty of winter holiday parties and family get-togethers around the end of the year. Sounds like the perfect time to show off your new, full smile!
Are You a Good Candidate?
Are you tired of hiding your smile because you are embarrassed by the gaps in your teeth? Then you are likely a good candidate for dental implants! Your dentist can confirm whether you can benefit from implant treatment during an initial consultation. In general, successful implant candidates must have:
Healthy teeth and gums
Sufficient jawbone depth
Excellent oral hygiene habits
Invest this summer in a beautiful, complete smile that you will be eager to show off all year round! Talk to your dentist today about dental implants.
About the Practice
The talented team at Celebration Family Dental has helped countless patients rebuild their smiles with dental implants. They create personalized treatment plans that take into account each patients' unique circumstances and smile goals. To learn more about the benefits of getting dental implants this summer, visit the Celebration Family Dental website or call 469-892-6647.