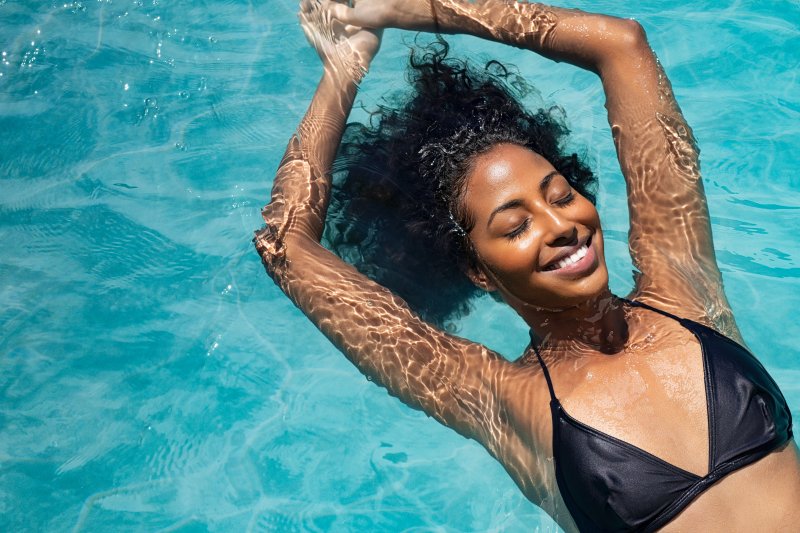 Who doesn't love going for a swim and cooling off during the summer months? The water feels so good, and it's a great way to just relax. But you may wonder, " is swimming is bad for your teeth?" Because of the chemicals found in most pools, you might not even think twice about diving in. A local dentist is here to answer this unique question and share what you can do to better protect your smile while enjoying a day or evening swim.
Why is Swimming Bad for Your Teeth?
You may not think much about how a swimming pool can negatively impact your teeth, but the truth is that it can if you don't take the proper precautions. If you just enjoy a quick swim now and then, you don't need to worry too much; however, if you and your family spend most days at the pool, you'll want to be mindful of how much exposure you and your children's teeth have to chlorinated water. Here's why:
It can cause tooth sensitivity if the chlorine levels are too high in your pool. Not only will it weaken the enamel on your teeth, but it will also make them easier to damage and difficult to enjoy hot or cold foods and drinks.
It can damage retainers and loosen your dentures. Make sure to remove any orthodontic retention device before swimming. Also, apply denture adhesive to ensure your prosthetic remains firmly in place.
If you enjoy scuba diving in the ocean, make sure to talk to your dentist about any potential decay and have them check for any restorations that may be loose. Why? Because diving can cause what is known as "tooth squeeze," which happens when diving to extreme depths. When contraction occurs inside your teeth to match the exterior pressure you're experiencing while diving, it may cause pain and damage to any restorations inside your mouth.
You may develop yellow or brown residue/stains on your teeth if you spend too much time exposed to chlorine.
What You Can Do to Protect Your Smile
Since most of these cases only occur when you're swimming day after day for hours at a time, most people don't have much to worry about. However, if you want to be on the safe side, make sure you do the following to protect you and your family's teeth:
Maintain regular dental checkups and cleanings to ensure that your teeth and gums are in optimal condition and do not possess any signs of decay or disease.
Strengthen your tooth enamel by using fluoride toothpaste, drinking fluoridated water, and asking your dentist about additional treatments to help make teeth stronger.
After you swim, make sure to rinse with tap water to remove any chlorine inside your mouth.
Make sure you are using a professional to treat your pool with the correct amount of chlorine and other pool chemicals.
Don't hesitate to wear a mouthguard to safeguard your smile while swimming, as being unaware of your surroundings can lead to an accidental chip, break, or knocked-out tooth.
Don't be afraid to go for a swim this summer. Just be mindful of how much time your teeth are exposed to the water and take the necessary steps to safeguard your smile. Only then can you be sure that your oral health remains in optimal shape these next few months.
About the Practice
At Celebration Family Dental, we are dedicated to creating a welcoming environment for you each time you visit! By offering comprehensive services and ensuring you are comfortable and at ease during your visit, we will work to restore, rebuild, and transform your smile into something beautiful and free of damage. To learn more about the services we offer and how we can help you better protect your smile this summer, contact us via our website or by calling (469) 892-6647.