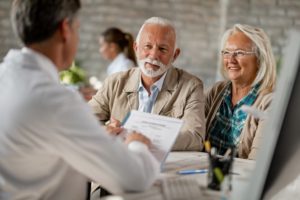 Missing one or more teeth can make daily life difficult, even more so for people with diabetes. Your only options seem to be living with the gaps in your grin, or wearing a denture that might slip around and cause embarrassing moments. But did you know there is actually another option? Dental implants look, feel, and function like real teeth without any of the slippage of regular dentures. You might be wondering, "Can you get dental implants if you have diabetes?" Keep reading to find out!
Are Dental Implants Safe for Diabetics?
You already know that diabetes can lead to multiple health issues, including impaired healing. As a result, patients with diabetes may have trouble with osseointegration – the process of dental implants fusing to the jawbone. However, just because you have diabetes doesn't necessarily mean you can't be a good candidate for dental implants.
If you're diabetic and considering getting dental implants, ask yourself these questions first:
Do You Have Type 1 or Type 2 Diabetes?
Type 1 diabetes is much less common than type 2, but it can also be harder to control. If you have type 1, you may need to take additional precautions to keep your blood sugar levels in check throughout the dental implant process.
Do You Manage Your Diabetes Well?
Studies have shown that when a patient's diabetes is well-managed, their risk of dental implant failure or complications is comparable to that of non-diabetic patients. Patients with poorly controlled diabetes, however, are more likely to experience post-surgery infections or implant failure. If you're having trouble controlling your diabetes, talk to your dentist or doctor about steps you can take.
Do You Have Good Overall Health?
Besides unmanaged diabetes, other health conditions can increase the risk of dental implant complications, including:
Tobacco use
Gum disease
Low jawbone density
If you have one or more of these issues, your dentist may recommend certain treatments to reduce your risk. For example, a bone grafting procedure could strengthen a jawbone that has deteriorated after tooth loss.
How Dental Implants Can Improve Your Diabetes
Dental implants may actually make living with diabetes easier. Many healthy foods, such as nuts, fruits, and vegetables, can be tough to chew with missing teeth or a loose denture. As a result, you might resort to eating softer, more highly processed foods that tend to increase blood sugar levels. With dental implants, you can chew as easily as you did with your natural teeth. Sticking to a diabetes-healthy diet should be a breeze!
Schedule Your Dental Implant Consultation Today!
Diabetes doesn't automatically disqualify you from getting dental implants. If you're interested in rebuilding your smile with a reliable solution that lasts, ask your dentist if dental implants are right for you!
About the Authors
Dr. Rajiv Shekhadiya and Dr. Dhiren Ahir lead the dental team at Celebration Family Dental in providing top-notch oral healthcare to patients of all ages in Carrollton, TX and the nearby communities. They collaborate with a network of skilled oral surgeons and periodontists in the area for the surgical placement of dental implants, ensuring the highest standards of care for their patients. If you'd like to learn more about getting dental implants when you have diabetes, contact Celebration Family Dental at 469-892-6647.