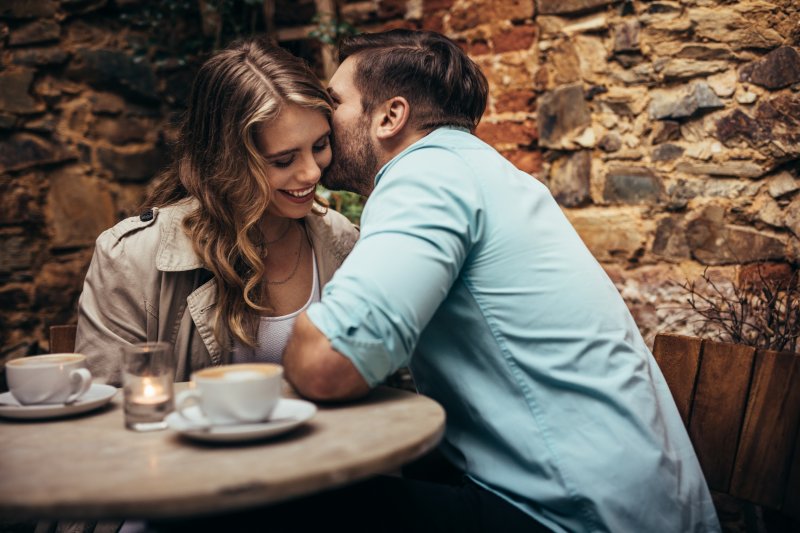 Are you going on a date this Valentine's Day? You may be wondering how your Invisalign treatment will affect it. Even though clear aligners are more convenient than traditional braces, they can still have some impact on your dating life. Just because the plastic trays are discreet doesn't mean your orthodontic treatment won't affect social situations. Fortunately, there are many steps you can take to prevent any awkward moments. Here's what you should know about dating with Invisalign.
How Does Invisalign Impact Your Dating Life?
If you're currently undergoing Invisalign treatment, here are a few ways it can affect your dating life:
Boost of Confidence
Since Invisalign aligners are made of a smooth plastic design, they're virtually invisible to other people. That means you'll be able to smile, speak, and laugh with complete confidence. What's more, you'll have a beautiful straight set of teeth to show off once you finish your treatment plan. Keep in mind that you need to take proper care of your clear aligners to ensure they remain undetectable to others.
Speech Alterations
When you first get Invisalign, you may have a hard time speaking clearly. Luckily, any lisp you develop is temporary and should go away as soon as you adjust to the plastic trays. You can speed up this adjustment process by reading aloud, repeating difficult-to-pronounce words, and having more conversations with loved ones.
Increased Risk of Bad Breath
One of the most common complaints with Invisalign is that it gives you bad breath. However, that's only the case if you fail to keep your aligners clean. By thoroughly cleaning your teeth and retainers, you can prevent bad breath-causing bacteria from accumulating on your aligners.
Tips to Keep in Mind While on a Date
Have you scored a date for Valentine's Day? Here are a few tips to keep in mind:
Keep your aligners in your mouth. For successful treatment, your Invisalign aligners must be worn for at least 20 to 22 hours a day. Therefore, you should keep them in while on your date!
Remove your aligners before eating. The only time it's okay to remove your aligners is before eating or drinking anything that's not water. Otherwise, you can damage your trays by causing cracks and stains.
Limit your alcohol consumption. Alcoholic beverages can stain your aligners, turning them from clear to a shade of yellow or brown. That means it's a good idea to remove your trays before drinking any alcohol.
Brush your teeth after eating. Make sure you brush your teeth after every meal right before slipping the aligners back in your mouth. Doing so will help you avoid problems like cavities and decay.
Dating with Invisalign does not have to be stressful. By following the tips outlined above, you can have a successful dating life while simultaneously working towards the smile of your dreams!
About the Practice
At Celebration Family Dental of Carrollton, we offer exceptional, comprehensive, high-quality dental services unlike anywhere else. Our team enjoys educating patients to help them make confident and informed decisions for their oral health. For more tips on dating with Invisalign, visit our website or call (469) 892-6647.