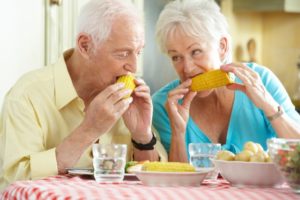 Free solo climbing, bull riding, scuba diving, big wave surfing, eating corn on the cob…these are all potentially dangerous activities. What's dangerous about corn on the cob? Well, this blog post is going to get into that and some other foods that can chip teeth. Keep reading to learn from your emergency dentist in Carrollton about items that warrant caution while eating.
Corn on the Cob
The shape of your front teeth is not designed for biting and grinding into corn cobs. Those are your thinner teeth with less enamel, so they are at higher risk of a chip or fracture. It's wise to avoid corn on the cob altogether if you have fillings, veneers, or crowns. Simply remove the kernels before eating.
Hard Bread
Toast, bagels, pretzels, biscotti, and snack mixes all qualify here with tooth-breaking potential. You could reduce the risk by dipping them into butter or olive oil.
Nuts
When eating nuts in their shells, such as peanuts, sunflower seeds, or pistachios, it's wise to avoid cracking them open with your mouth. Even with shelled nuts, be aware that there could be sharp fragments in the package.
Popcorn
Don't worry about popped popcorn, it's the unpopped kernels you've got to watch out for. A kernel is one of the most dangerous items on this list and can even break apart a filling.
Hard Candy
From cough drops to lollipops, hard candy is bad news for your teeth. If you bite into it too soon, you can chip or crack a tooth. If you choose to let it dissolve in your mouth, prolonged exposure to sugar can increase your chances of developing a cavity.
Fruit Pits
Cherries, olives, and peaches are some potential sources of pit problems. Don't trust labels that say, "pits removed," since it's very possible a few may have been missed. These are quite dangerous like popcorn kernels.
Ice
Go wild with shaved ice, but it's cubed ice that requires caution. Chewing ice can cause your teeth to develop microscopic, hairline cracks that can increase in size over time.
You don't have to quit enjoying the foods you love for the sake of your oral health. Just be cautious and know what you're biting into. If you do accidentally chip or crack a tooth, make sure to get in touch with your dentist in Carrollton right away!
About the Practice
At Celebration Family Dental of Carrollton, our practice is locally owned and operated. It's important to us that dentistry is affordable, and we always maximize your insurance benefits. We're open evenings and on weekends to accommodate your busy schedule. If you are ever faced with a dental emergency after eating foods that can chip teeth or due to something else, we offer multiple forms of dental sedation, and same-day emergency appointments are available. You can schedule one on our website or by calling (469) 892-6647.