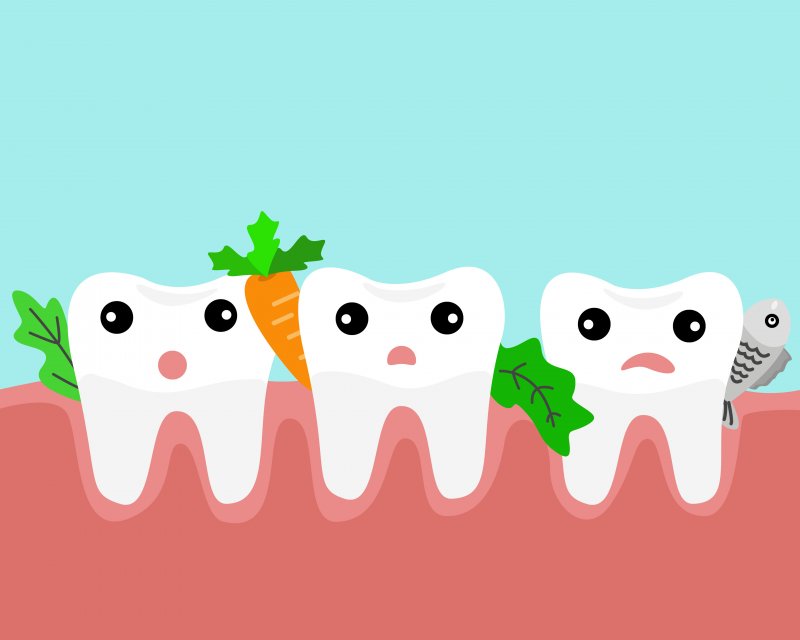 There is a whole wide world of food out there, and as you enjoy all the delicacies that you encounter, you could very well run into a situation where something becomes stuck between your teeth. It might not even be food; sometimes other objects or debris can become lodged in your mouth. If this happens, you don't need to panic at all; there are a few things you can do yourself before heading to your dentist's office.
Identify the Object
It often helps to identify the object yourself; that way, you'll know if it's something that you can maybe remove yourself, or if it'll require the assistance of your dentist. It is also easier to remain calm if you are aware of what the object is; it's important to keep your composure here! Retrace your steps and think about everything you've eaten recently: was there anything that could've easily become stuck? Remember, it's also possible for things other than food to become trapped in your teeth, so carefully consider everything.
Attempt to Safely Remove the Object
Once you have an idea of what the object is, you'll have a better understanding of how to remove it. In many cases, food or debris can be removed at home with little trouble. However, you should heed caution and be gentle; use a dental pick, waxed floss, or a water flosser. These are your best options, and they are designed specifically for these types of instances. Do not use a toothpick, fork, or anything else metal or sharp as they can unintentionally lead to injury!
Your tongue can also be used to help dislodge food and debris, if you're careful not to overwork your jaw muscles. Other options including gently rinsing your mouth with warm water or mouthwash; the rapid swishing motion of liquid is highly effective at clearing out particles. There are also some types of foods that act as "natural toothbrushes;" eating carrots and other crunchy root vegetables can sometimes help.
Contact Your Dentist
If you're unsure about what the stuck object is, you're unable to safely remove it yourself, or you're in pain or discomfort because of the object, schedule an appointment with your dentist as soon as possible. They will be fully equipped and more than willing to assist you with it. The longer the object remains stuck, the more likely a serious problem is to develop because of it.
As you eat, drink, and smile your way through life, you might encounter pesky objects or bits of debris that find temporary refuge between your teeth. When this happens, there's no need to fret; you or your dentist can handle it.
About the Practice
Celebration Family Dental has served families in Carrollton and the surrounding area for several years. The practice offers various services including cosmetic, preventive, and restorative dentistry, as well as Saturday availability! They are led by Dr. Rajiv Shekhadiya and Dr. Dhiren Ahir, who both attended the New York University College of Dentistry. They are both members of the American Dental Association, the Texas Dental Association, and the Dallas County Dental Society. If you have any questions about the article or would like to schedule an appointment, you can reach out via their website or (469) 892-6647.