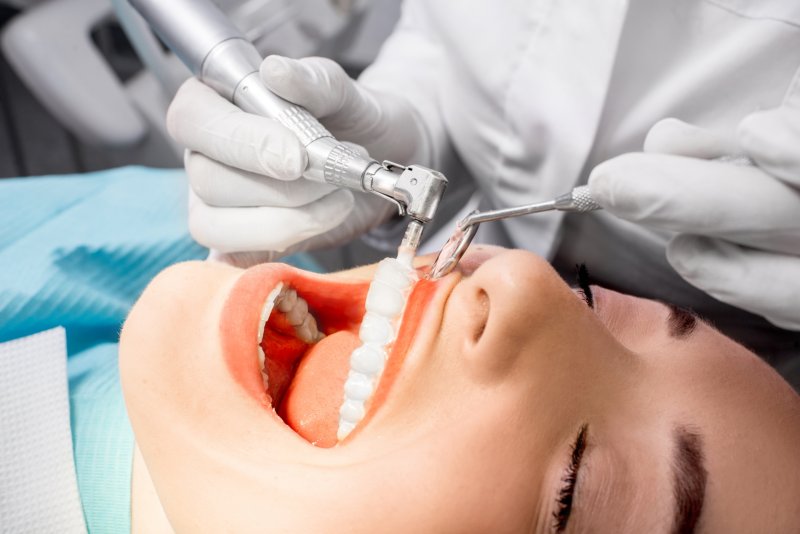 Has it been a while since you've seen your dentist for teeth cleaning? To maintain your best oral health, you should consider visiting them every six months (or sooner) for dental checkups and a thorough polish for your pearly whites. While this is an important part of preserving your smile, you may be wondering: do teeth cleanings hurt? Read on to learn what you should expect during your dental appointment!
Does It Hurt to Get Your Teeth Cleaned?
Firstly, you should not experience pain or severe discomfort when undergoing professional teeth cleaning by a hygienist. That said, there may be certain factors that can increase your likelihood of feeling sensitivity during your treatment. If you're struggling with tooth decay, inflamed gum tissue, or any other oral health problem, then you might sense some discomfort. Be sure to notify your dentist or hygienist if you are feeling any pain during your cleaning. They'll be sure to make any necessary adjustments and do everything they can to keep you as comfortable as possible throughout your visit.
How Can You Minimize Discomfort During Teeth Cleanings?
If you typically struggle with sensitive teeth and feel discomfort during teeth cleanings, you might consider taking the following steps to make your experience more manageable:
Numbing agents: Ask your dental team if they can provide you with a topical anesthetic should you feel any pain during your appointment. This will help numb your mouth and keep you comfortable.
Sensitivity toothpaste: You can buy desensitizing toothpaste from your local drug store to reduce discomfort in sensitive teeth. Keep in mind that you might only notice the difference after a few weeks.
Pain medication: Consult your dentist about taking over-the-counter pain relievers like ibuprofen to minimize any pain when you visit. This can decrease inflammatory reactions and prevent irritation.
Oral hygiene: By brushing and flossing regularly and after every meal, you can help contribute to a more comfortable cleaning session.
Brush gently: Brushing too aggressively can wear down your teeth and make them more sensitive. Keep gentle, circular motions instead.
Electric toothbrush: If you need help brushing your teeth more gently, an electric toothbrush can do most of the work for you.
You shouldn't experience any discomfort while visiting your dentist for teeth cleaning. Speak with your dental team if you have any concerns, and they'll be more than happy to help you have a more comfortable experience!
About the Author
Dr. Rajiv Shekhadiya earned his dental doctorate from New York University. He's a proud member of the Texas Dental Association, the American Dental Association, and the Dallas County Dental Society. He regularly seeks continuing education to refine his skills and expertise so that his patients receive the best care they deserve. If you'd like to schedule an appointment for teeth cleaning, visit his website or call him at 469-694-3766.